Meatless Lalo Haitian Food Recipe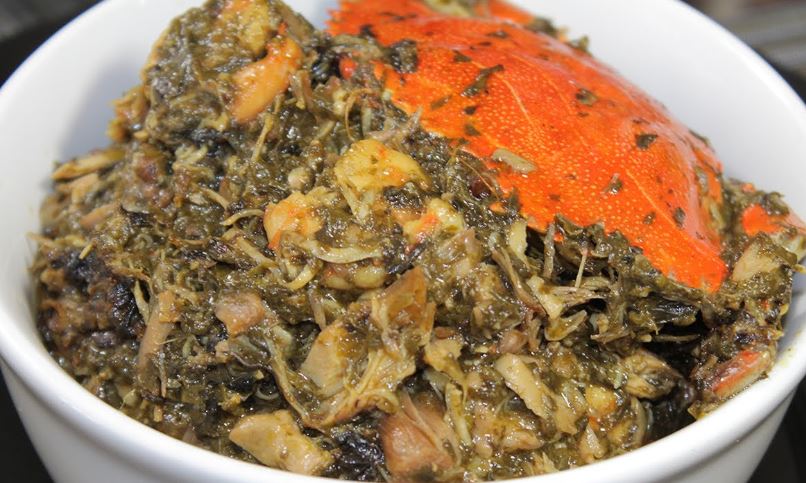 Lalo Haitian food is an interesting dish that captures the variety and range of Haitian cuisine. That's why its flavors are so popular and unique. When people think of Haitian cuisine they always think of seafood and spices. And while they are not wrong, both seafood and spices are a large part of their cuisine. And there is so much more.
Enter the lalo Haitian food recipe. Lalo is basically jute leaves cooked with onion and tomatoes simmered together with herbs and spices for a long time to make a delightfully hearty stew. Sometimes meat can also be used in it.
However, these delicious jute leaves are very filling and very healthy. And all the time you put into this dish is totally worth it. You can find jute leaves in most African, Asian, or Latin American supermarkets.
While fresh jute leaves would be great, you can use frozen jute leaves. If that is what is available, you might have to reduce the amount of water you use by one or two cups as frozen lalo leaves have a lot of water.
What Is Called lalo?
Lalo is known as Jute Leaves in English and also goes by several other names such as Jews Mallow, Ewedu, and even Molokhia. It is not common to most people but is well known in Asia, parts of Africa, and the Middle East. the jute leaves are very flavourful and tender once cooked properly. Lalo is different from the Arabian Callaloo stew. The leaves are used to prepare Jamaican callaloo Viridi. Similar to jute leaves, Jamaican Callaloo is similar to spinach but has a stronger flavor.
Benefits Of Lalo Leaves:
1. When the weather outside gets cold and chilly, there's nothing quite as comforting as a stew or soup heating up in the kitchen.
2. While chicken tomato soup is as comforting, it doesn't get any better than this Haitian Lalo stew served on a bed of white rice.
3. As the mouth-watering scent from the instant pot fills your home, consider the following benefits jute leaves also contain—
Protein
Thiamine
Vitamins A, C, and E
Iron, riboflavin
Niacin
Folate
What Vegetables Are Good Stew?
All leafy vegetables are good for stews. In the Caribbean, and precisely in Haiti, a stew usually includes spinach, cabbage, chayote, and carrots. Okra and eggplant are also found in stews. Potatoes in stews rarely make their way into Haitian cuisine.
Therefore, a great rule of thumb, you must cut your vegetables to approximately the same size and even the leafy greens. In this way, your stew will look more appetizing. And depending on your stew ingredients, all the vegetables will cook evenly.
Always remember to add the vegetables that take the longest to cook the first. Bell peppers cook quicker and are best added later.
How long To Cook Lalo?
Depending on the fresh, frozen, and dried Jute leaves, the cooking time will change. Additionally, the timing will change based on the add-ons (vegetables). Lalo typically cooks in 45 to 50 minutes. Stews should be prepared slowly, not at a high temperature. When serving the vegetables, you want them to be fully cooked and to have plenty of time to develop their flavors.
Learn Basic Tips & Tricks Before Making Lalo:
The jute leaves must be thoroughly cleaned otherwise the stew will taste sour.
To add more spiciness, use scotch bonnet pepper.
On the burner, the jute leaves take a while to cook. Only a few minutes are saved by utilizing the Instant Pot.
Use olive oil in its place if you don't have any butter on hand or don't want to.
Ingredients For Making Lalo Haitian Food:
5 cups dried jute leaves or lalo
Baby spinach, 16 oz., and 2 teaspoons of olive oil
6 minced or chopped garlic cloves
6 anchovy fillets or chopped half of 6 diced tomatoes (Campari tomatoes or any juicy tomatoes preferably)
2 onions, 2 celery stalks, and 1 medium carrot
Orange and red tiny pepper slices totaling 1 cup
2 medium red onions, cut or chopped, or 1 large red onion
12 cups roughly chopped parsley
1 ½ tbsp Noubess Garlic and Herb Seasoning
How To Make Lalo Haitian Food?
Haitian food lalo is known for being a time-consuming dish. If you don't have the time to spend hours in the kitchen, however, this Lalo recipe is comparable to a classic one. The outcomes are equally tasty. So, let's see how it works:
Sauté the onions and garlic first. This vegan recipe, however, completely omits it; nonetheless, you are free to include it if you'd like.
The onions and garlic should be sauteed for around two minutes. Once the vegetables begin to soften and the garlic begins to brown, continue to stir occasionally.
the tomato paste is added. Add the tomato paste and stir. Break up the paste with a spoon. Stir in the lalo leaves. Next, gradually add the spinach. As the spinach starts to wit, add each batch.
Add the water after you've added all of the spinach.
Season the stew next. Add flavorings like salt, pepper, lemon juice, and a vegetable base that's better than bouillon.
Cook, then eat, then enjoy. after each component has been included. Stir it just a little bit. Put the instant pot lid on top. For 45 minutes on high pressure, cook.
Over white rice or rice and beans is how it should be served. It can last up to four days in the refrigerator.
Storage:
Given how time-consuming it is, this Easy and Delicious lalo Haitian food should be prepared in bulk. The leftovers can be kept in the refrigerator for up to a week if they are placed in an airtight container. You might add little water to the reheated food to help thin it down.
The Simple and Delectable Jute Leaves can also be frozen. Freeze it for two to three months in an airtight jar. Before heating it, let it defrost in the refrigerator for the night. It may be heated on the stovetop or in a microwave.
Substitutions:
Nothing else can be used in place of the jute leaves. Jute leaves are required if you wish to make lalo Haitian food. The lone exception is that frozen food may be substituted for fresh.
Beef: Chuck roast is a preferred cut of meat. Instead, you might substitute hog cuts like shoulder, sirloin, and blade roast. Adding blue crabs to this dish is common. Combine it with the beef and boil everything together.
Spinach: Use fresh or frozen spinach. Kale can also be used. Another excellent option is watercress, however, it is recommended to use it in addition to spinach rather than as a substitute for it.
Habanero: Scotch bonnet pepper is the obvious option, but a habanero pepper will make your stew much spicier. Jalapenos can also be used in their place.
Extra virgin olive oil: Ghee and butter are both suitable substitutes. Alternatively, you can use any vegetable oil.
Tomato paste: The addition of tomatoes gives the stew a pleasant tangy, acidic flavor, but you may completely exclude them for a rich, all-green stew. Tomato paste can be replaced with ordinary, diced tomatoes.
Thyme and parsley: They work wonderfully together in this dish. Although they are poor replacements, rosemary and cilantro might be used.
Seasoning: Cloves can also be used as seasoning; they greatly enhance the flavor of the stew.
Lemon Juice: Orange juice and lime juice are both suitable alternatives to lemon juice. It adds a little brightness to this heavy stew.
Final Word:
So, this is the complete information about the lovely and unique dish lalo Haitian food recipe. This is an amazing and lovely vegetarian recipe that can be added to your rotation. This delicious and nutritious Easy and Delicious Jute Leaf is well worth the effort it takes to prepare. If you like reading this, share it with your friends and family, and try the recipe at home.
FAQs:
Q. What Flavor Do Jute Leaves Have?
Jute leaves have a slippery feel that is best compared to spinach. After being cooked, it gets slimy and is also used as a thickener.
Q. What Stores Sell Lalo Leaves?
Jute leaves are available on Amazon and at the majority of foreign retailers. Look for Corchorus Olitorius, Ewedu leaves, mulukhiyah leaves, or jute mallow.
Q. How Long Will Lalo Keep In The Refrigerator?
The shelf life of Haitian lalo in an airtight container is up to 4 days.
Q. Why Do The Jute Leaves Need To Be Washed?
Jute leaves have a harsh taste. The natural flavor of the jute leaves will blend well with the spices used to make the Lalo meal after being washed, which will lessen their bitterness.
Q. Where Are Lalo(Jute) Leaves Found?
Well, lalo is a leafy vegetable that is commonly found in the tropics and subtropical regions. They may also be found at farmers' markets.