35 Most Stunning Lemonade Braids Inspired by Top Models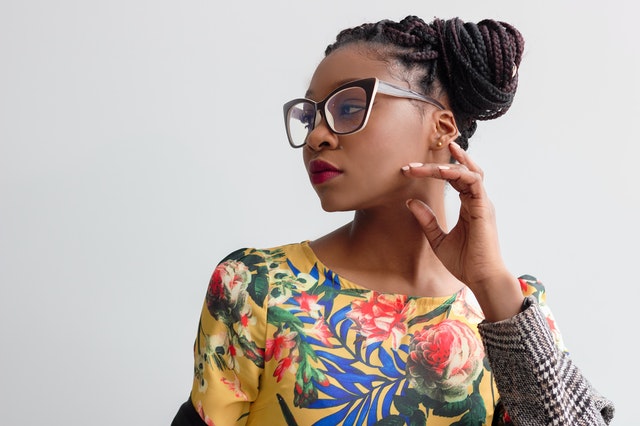 Lemonade braids are coming in the trending after the most famous album of Beyonce, lemonade. Beyonce made this rock with her little cornrow which is mixed with Fulani style. Once you have done with these braids, they last for 4 weeks. There are so many types of lemonade braids but the classic Beyonce style stole the public's heart.
Lemonade braids are the most popular and trending hairstyle that is also inspired by many top models. When you are born with the sexiest and most stunning braids, why did you want to change them by doing several kinds of hair treatments? For many decades, lemonade braids have taken a huge role in the fashion industry as side braids. This is the most versatile as well as running from extremely intricate patterns to normal plaits.
There are several kinds of braids and lemonade braids areas suitable for every occasion no matter what is the length of your braid jumbo lemonade braids or small lemonade braids. Braids are the ideal hairstyle for every purpose such as office, school, wedding, and even for gym.
The name lemonade was discovered when the famous and versatile singer Beyonce wore the braids in 2016 in her citrusy titled pictorial album, Lemonade. An album is a loving approach to the black women which had more than 10 pictorial award nominations and become the best all-time favorite album Grammy.
The album is an uplifting and powerful show of black culture and diversity that created ripples throughout the world. Not just Beyonce, there are so many other models who love lemonade braids. In this article, we will discuss the topmost 35 stunning lemonade braids styles including Beyonce lemonade braids.
Also read about Skunk Stripe Hair, Freetress Water Wave, and African Hair Braiding.
What are lemonade braids?
Lemonade braids are side-swept long cornrows, naturally ending former your waist or chest. Brais are long-lasting, low maintenance, and will be finished with your natural curls or extensions. It is the best choice to look more glamorous and stunning.
35 Most Stunning Lemonade Braids:
In this article, we will discuss the most stunning 35 braids styles with different lengths of hair such as big, jumbo, small, and medium lemonade braids.
#1. Beyonce lemonade braids: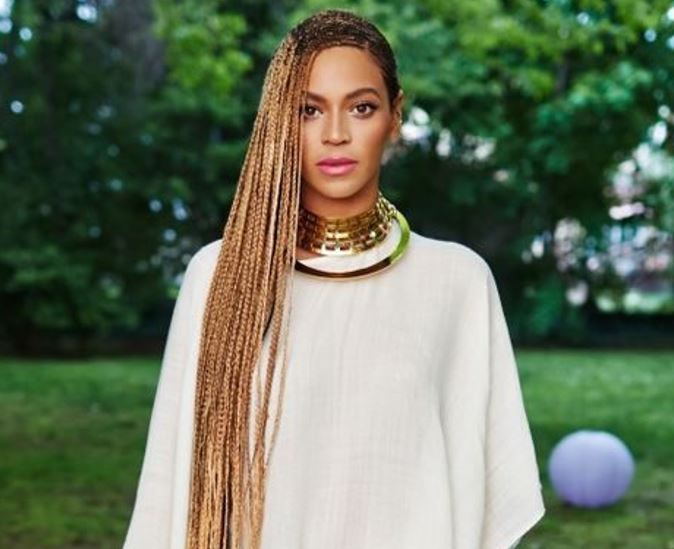 Beyonce lemonade braids are the most stunning and iconic braid styles since the song lemonade was released. Even the name lemonade is discovered through the all-time favorite album "Lemonade" where the actress wore side-parted braids. She wore super long mini braids with the color, gold throughout aspect however she is covered in casual pixie dust. Beautiful and trendy, you cannot go wrong styling her big lemonade braids near the side through a gold color for a fierce and sexy look.
#2. Classic Lemonade Braid: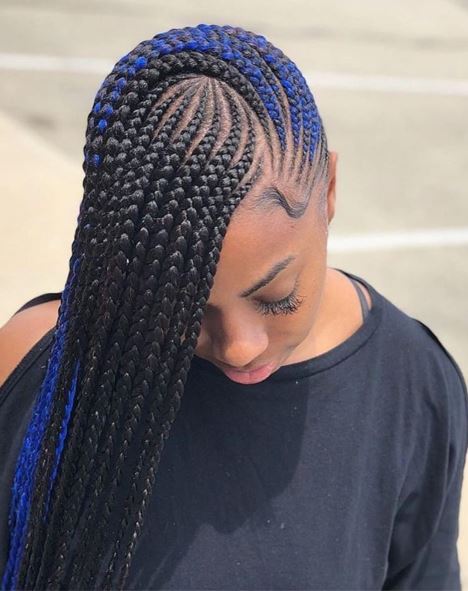 It's fine to have fun and try different lemonade braids but no hairstyle can beat classic looks. The classic braid hairstyle looks good for both small and long braids and the micro braids give you a traditional cornrow through long locks flounced to one part or side. The classic subtle style would not date plus will serve for a long time. The styled superiorities add an additional beauty factor to your whole look.
#3. Box Braids: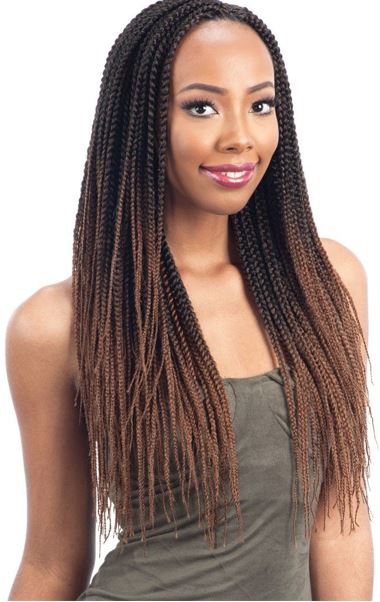 Classic container braids are one of the maximum iconic patterns for Afro-textured hair. Entirely your hair might be sectioned hooked on squares and labored into personal plaits to change to this look. It is one of the best lemonade braids for kids. one can use their hair or use extensions braids in, with the intention to provide you with head-turning lengthy, complete hairs.
They are taken into consideration in a defensive fashion and maybe any duration or thickness; though, when you have certainly skinny or first-class hair, choose smaller container braids, consequently, there's much less anxiety to your scalp. While container braids take the long term to install, as soon as completed they remain for weeks and are also very low maintenance.
#4. Ponytail Lemonade Braids: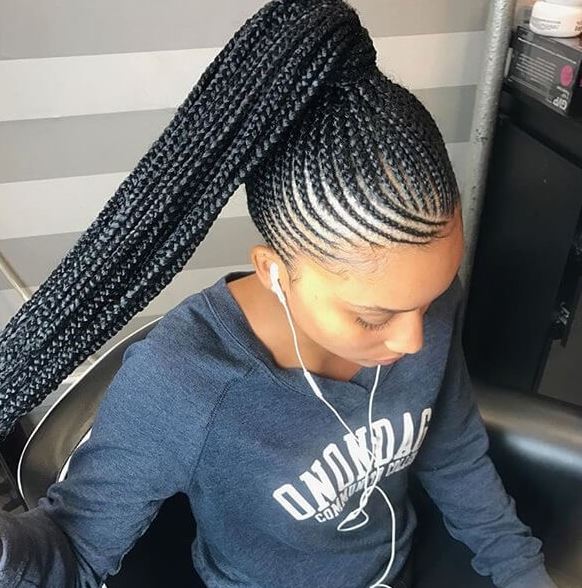 If you have braids and want to look simply as well as beautiful with a new style then the simplest and easiest is ponytail lemonade braids. Though it looks simple, that does not mean it does not give the flawless look. It is famous because it draws eyes up and makes your face look as if it is longer. It is also versatile and works for offices, gyms, schools, or any party. The ponytail braid looks absolutely polished, and secure with a clear snag-free elastic or you can also add some hair accessories.
#5. Crochet Lemonade Braids: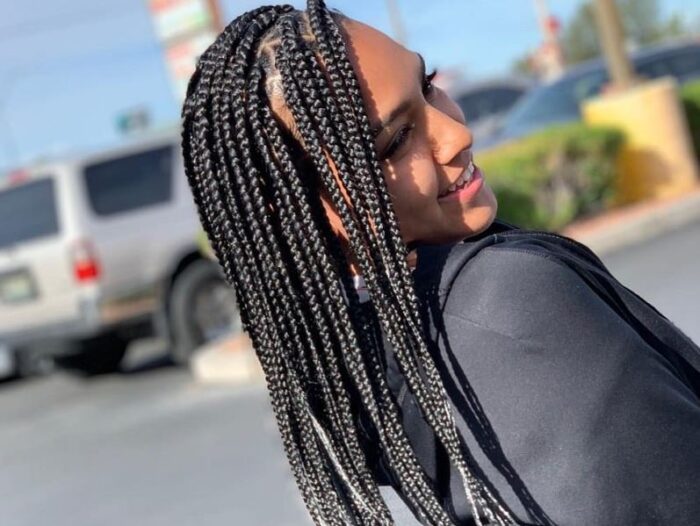 One of the handiest and simplest methods to get jumbo lemonade braids is the crochet method. Similar to the weave, crochet entails first braiding the hair into unfastened cornrows. The cornrow sample paperwork the muse on your crochet braids. Following, hair extension is threaded via and secured with the use of a crocheting hook earlier than being braided into the braid fashion of choice.
One also can have convenient braids secured, along with container braids which melodramatically reduce the period it takes to install your braids. It makes a handy choice in case you do not have a further day to devote withinside the stylist's chair.
#6. Medium Lemonade Braids: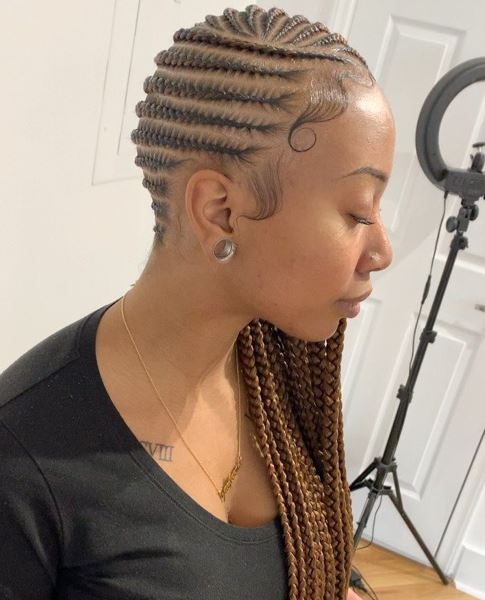 Medium lemonade braids are one of the most stunning lemonade elegances and best for girls especially those who have thin hair and want to make their hair thicker. The best part of this hairstyle is it takes less time to make compared to making other braids. medium lemonade braids take 2-3 hours to make which gives you the most attractive and sexiest look with a smooth finish. It looks sleeker and gives you a luscious look when you use hair extensions.
#7. Topknot:
Top Knot is one of the cutest and quickest hairstyles to get big lemonade braids out of your face on these hot days. For making topknot you need to leave a single strand out by the side of the obverse of the face plus some at the back then twist the respite of the braids hooked on a bun scheduled top of the head. You can secure your loose strands with a hair accessory such as bobby pins.
#8. Pulled Back: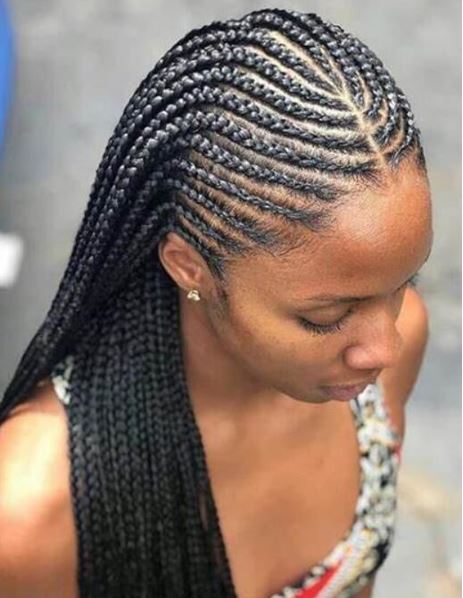 Pull back style is the best option for lemonade braids for kids but anyone can wear the hairstyle. If you are tired of the style of the one-side braid then it will be best to pull your braids back and hold them with elastic. You can also use a hair extension to look more dashing. Normally it takes 2 hours to create the look for an experienced stylist.
#9. Small Lemonade Braids: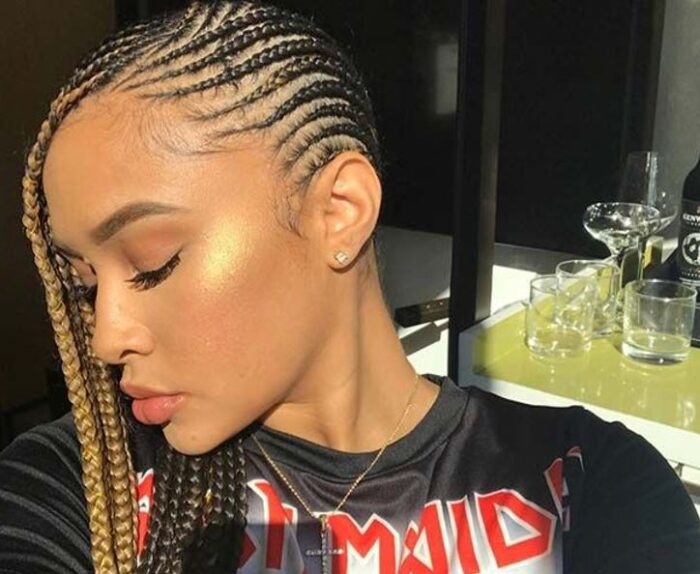 Small lemonade braids are the most popular hairstyle in the decade. It not only enhances your beauty but also develops your personality. Small braids look attractive and trendy for every age of women. Most actresses or models have adopted this trending hairstyle though it's quite complex to get the look. To make this hairstyle you need a minimum of 3-5 hours as there is hard work to form.
#10. Lemonade Braids Style with Beads: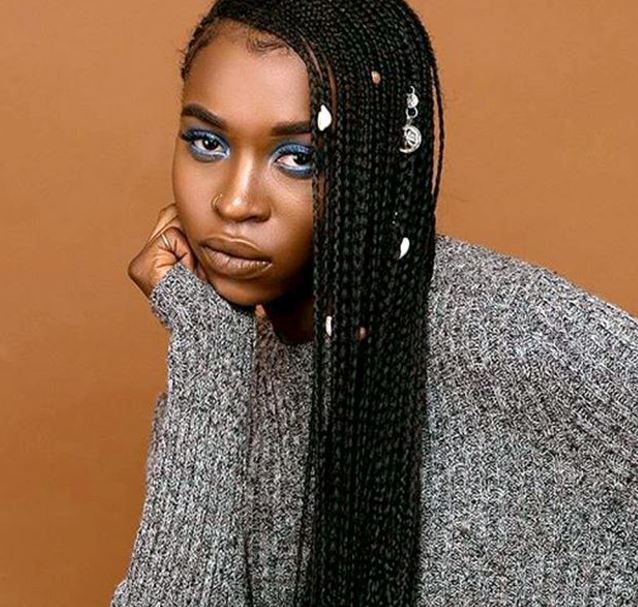 The touch of beads gives you a flawless look that enhances your personality as well as your beauty. To enhance the bohemian look you can add some beads at the time of making lemonade braids. From the girly look to simple style, bohemian or punk, there are lots of varieties of beads that can match your different looks. Whatever the style or the occasion you have to choose your preferred size which will seamlessly conclude the locks.
#11. Centre Part: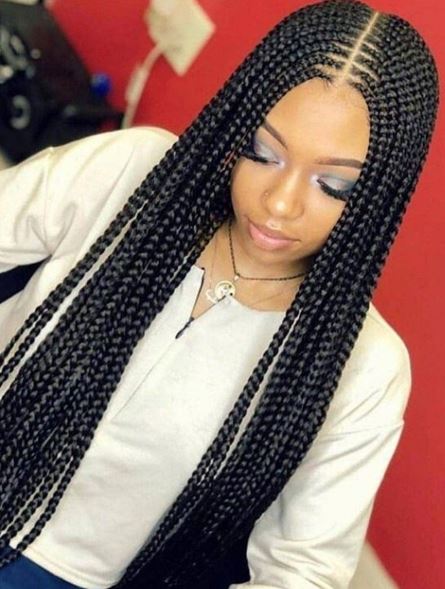 Though historically braids are brushed to 1 side, you could additionally put on them with a middle component. This fashion is gratifying for girls with spherical face shapes, it'll visually lengthen the capabilities and create regularity
#12. Lemonade Braids by The Side: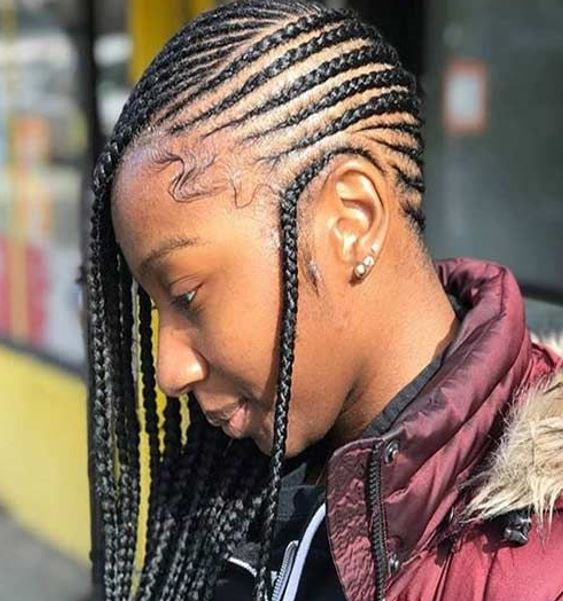 However, how they're braided is as much as you. Now your hair type is braided completely to the alternative of the top with a lovely geometric patterned component.
#13. Big Lemonade Braids: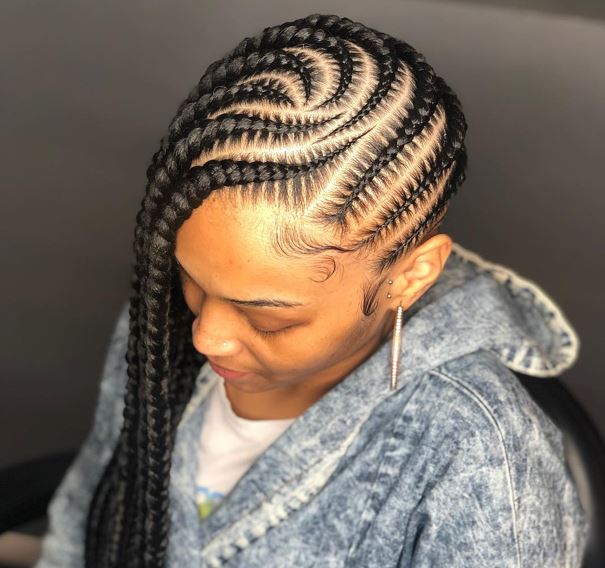 Big lemonade braids take the place of the most popular braid styles in every girl's heart. Those girls who have long curly hair, loved the hairstyle most. This hairstyle gives you a very sweet and cute look to the hair plus makes your look more attractive. Professionals take lots of time to prepare these amazing braids styles. You can also add some hair accessories such as knocks, and bobby pins.
#14. Jumbo Triangle: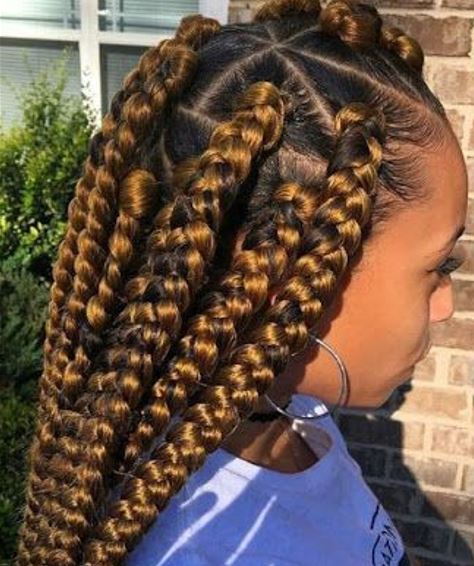 This edgy fashion is set in a way as conventional as braids get. The uncertainty you need to face out, clearly supply this triangle component with jumbo lemonade braids. This hairstyle is ideal for those ladies who have curly and long hair.
#15. Pink Lemonade Braids: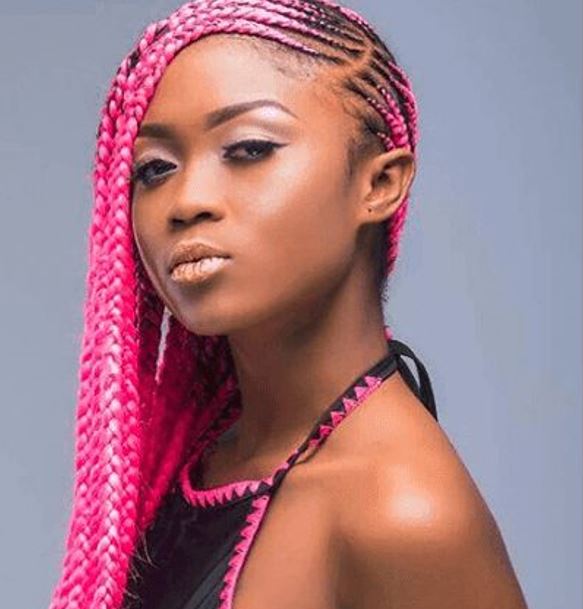 This warm purple is extra clean than a pitcher of purple lemonade in the heat of summertime. Enhance your appearance with the cool color simply in time aimed at the warmer months
#16. Ghana Lemonade Braids:
Ghana lemonade braids are the most favorite African braided hairstyle for women. The hairstyle looks thicker especially when people use extensions. There are lots of Ghana lemonade braids such as:
Ghana Cornrows
With Curls Ghana Cornrows
Ghana Lemonade Braided Bun
Zig Zag Cornrows
High Pony Ghana Braids
Crochet Curls Ghana Braids
Knotless Ghana Lemonade Braids
Ghana Lemonade Colouring Braids
#17. French Braids: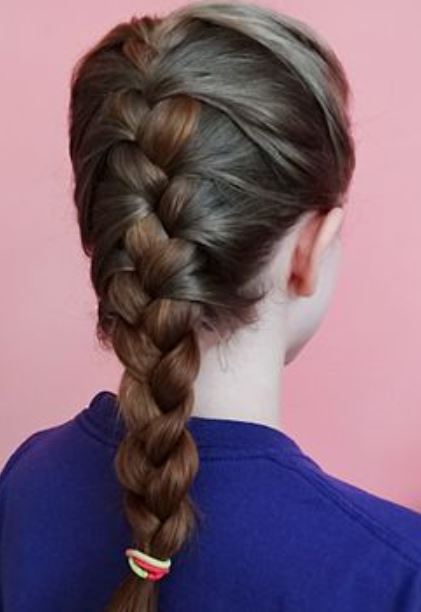 An undying and female fashion, the French braids are conventional for a purpose. You can put on this flexible braid for an informal brunch, the health columbarium, or the office. Keep the thing high-quality clean for an extra expert appearance, or pull some face-framing portions out for the gentle and romantic atmosphere.
You also can group it through fishtail braids, a half-down fashion, besides French braids also are a famous coiffure for wedding ceremony guests. Whatever the occasion, French braids are a great choice. You can also try this in the form of ponytail lemonade braids.
#18. Large Lemonade Braids:
Paired flawlessly with gentle and styled superiorities, massive lemonade braids paintings pleasant with greater lengthy hair. However, empowerment with a robust appearance could actually have a sensitive side.
#19. Swirl Lemonade Braids:
Give a rushing appearance to your kid's coiffure with this fascinating swirl lemonade style. It's a brilliant opportunity to standard cornrows and gives most consolation to your adorable kid. It is the best lemonade braids for kids which is perfect for this trendy and fashionable lifestyle of your kids.
#20. Goddess Braids: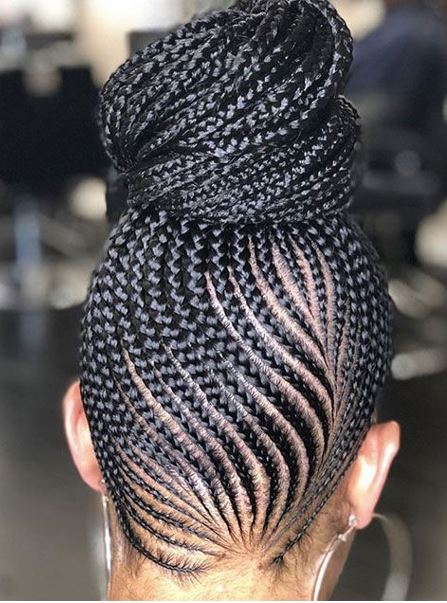 This extremely delightful hairstyle preserves 2 types of lemonade braids, thick and micro. Micro lemonade braids block the gaps amongst the thick rows. Though it takes lots of time to be prepared, it gives the best look which suits you.
#21. Skinny Braids:
For girls who have short hair and want to try braids; skinny braids are the best for them. Skinny braids create an elegant, fragile and neat impression. You don't need any extensions for achieving looks. Moreover, it does not take much time to prepare and be perfect for working women.
#22. Lemonade Braids Through Tread: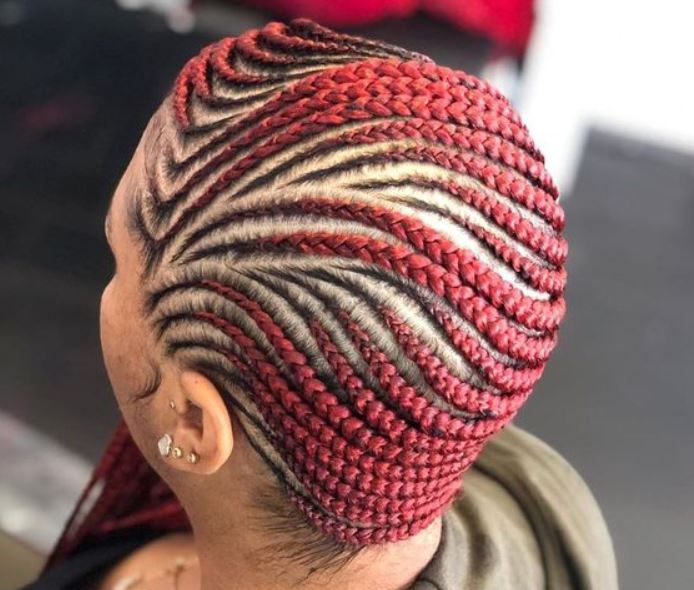 Treads make your braids more good-looking and stunning. It is the most popular small lemonade braids hairstyle this year. It is as simple as side braids to make. Thus, it is the best combination of edgy and feminine.
#23. Colouring Lemonade Braids:
When you are using color during the time of making lemonade braids, take your hair to the final level. You can choose your favorite color though lavender color gives a gorgeous look. No matter what is the length of your braids, the color gives you a flawless and stunning look.
#24. Stylish Braids: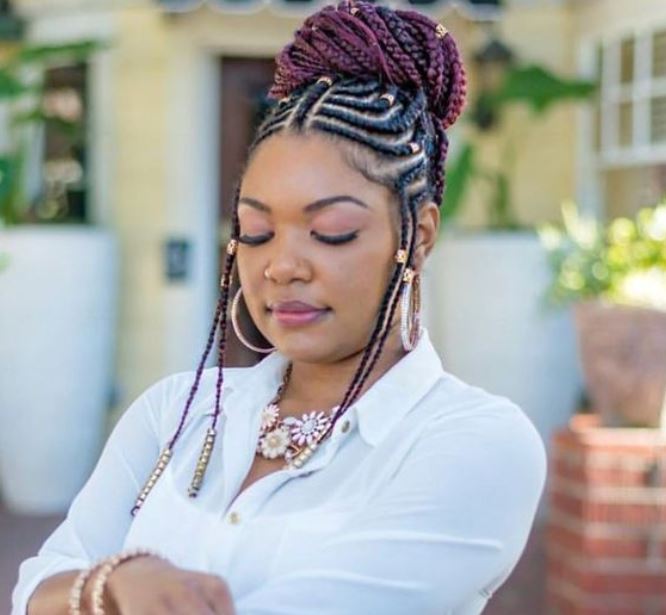 Lemonade braids totally depend on your stylist's imagination and creativity. That's why it is the most adaptable hairstyle that continues to be the trending fashion even after a lot of years of commencement.
#25. Triple Toned Braids:
These triple-toned braids are one of the stylists and sexiest big lemonade braids in the recent trend. Most of us think that the ombre effect is just for straight hair, people with braids are not looking good with the effect. But I want to tell you that, lemonade braids with an ombre effect give you an eye-pleasing and stunning look.
#26. Aesthetic Lemonade Braids:
Aesthetic lemonade braids are one the most trending braids styles inspired by the top models. If you're tired of making the same one-sided braids, you can try this one. You can elaborate the style by deciding on hair from several braids and creating a different look that you have never seen before.
#27. Green Braids:
You don't even imagine how much it looks attractive when you give a touch of green color at the time of making jumbo lemonade braids. You can make your braids more attractive when you give a flawless look of green color at the end of your hair.
#28. Blue Braids: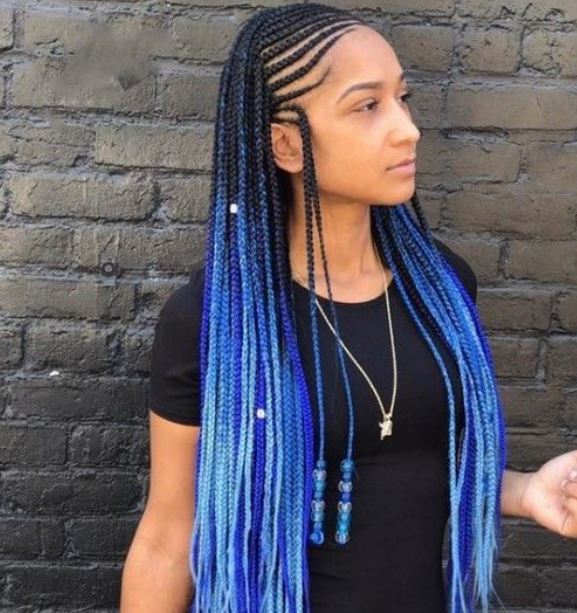 Blue lemonade braids give you a flawless stunning look that is perfect for any dinner date or night out party. If you don't want to change your hair color you can use an extension with blue color.
#29. Honey Blonde Braids:
Small lemonade braids with honey blonde color look extremely gorgeous. The black pedigrees provide a dusky contrast to an otherwise igniter shade of your hair which gives you a glam look.
#30. Curl Lemonade Braids:
Braids are looking more stunning with curly or wavy hair. The hairstyle comes with curly ends and the loose curls create a flawless natural look.
#31. Chunky Lemonade Braids:
Curvy and thick metallic purple braids give you the most attractive look. Chunky lemonade braids are easy to create for professionals. It's like a regal peak before flowing down to the single side similar to a veil.
#32. Thick Wheel Pattern Lemonade Braids:
These thick wheel pattern big lemonade braids look like a wheel, extending superficially from the center hub and then framing your scalp in the cyclical crown.
#33. Sunset Skinny Lemonade Braids:
Small cobalt braids are slightly impenetrable as they spread outward and generate an eye-catching result that recaps us of the evening sunset. You can use the blue extension which provides a great contrast to jet-black braids.
#34. White Ends: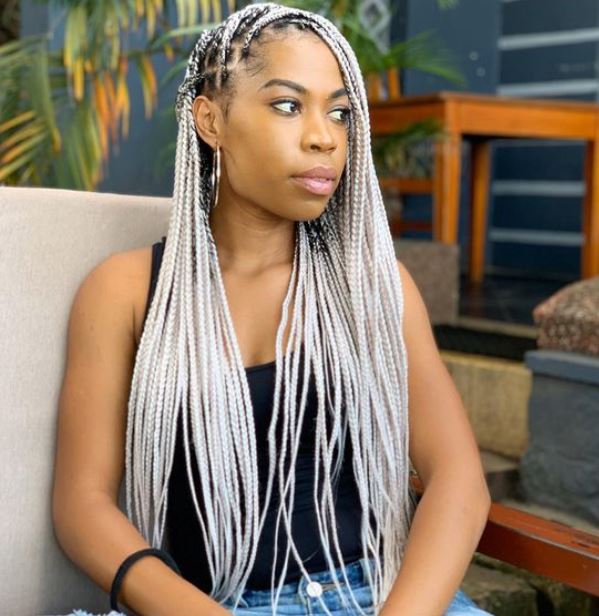 Lemonade braids that end with white color give you a monochrome spectrum. The style proportion of conventional back medium lemonade braids is taken up the notch with the white color of the tops that add on energy factor.
#35. Thin and Thick Braids:
If you are in the confusion between thin and thick braids then this hairstyle is perfect for you. A medium braid performs as the part line plus divides your scalp units into two. The chunky one is trailed by the skinny braid which gives you a fabulous look with shocking electric pink extensions.
Maintaining lemonade braids is tougher than making them. As you need to take care of your braids with proper maintenance. To maintain your lemonade braids, follow the instructions.
How To Maintain Lemonade Braids:
1. Trim regularly:
To ignore the flyways of your braids, trim the braid regularly. There are lots of reasons for having flyways; you can easily get rid of them by trimming those and getting tidy and fresh braids.
2. Use Silk scarves and natural oil:
You can easily maintain your braids by using silk scarves as it helps you to cover your braids from outside. Also, use an oil spray to massage your scalps. Don't use hair oil directly by hand, it can damage your braids.
3. Don't need daily washes:
There is no need to wash your braids regularly. You should wash your braids one time a week in summer and in the winter; you should wash one time in 10 days.
Conclusion:
Lemonade braids not only give you a flawless stunning look but also enhance your personality. So don't be ashamed of having curly hair or braids as you can look attractive with those braids. However, you just need to choose your favorite braided styles which are inspired by top models.