Sweet Dessert Pizza Recipe Make You Feel the Taste of Home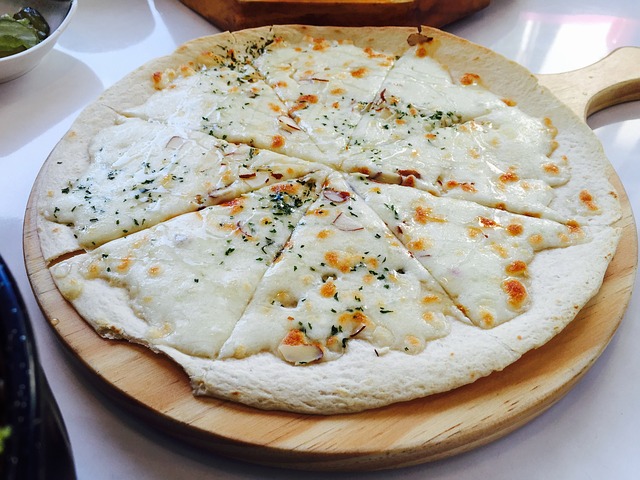 Who does not love the taste of pizza, I think everyone loves this delicious snack. The little slice of pizza can bring happiness to your beloved one's face. You can celebrate any festive moment with your family sharing a mouthwatering delicious pizza. Think about how beautiful it will be when you made a dessert pizza recipe at your own home instead of ordering from the online shop! Yes, it would be amazing and also healthy for your family. Many people compare pizza with junk food, they say that pizza is unhealthy food, but such delicious food is favorable to most of people.
In this article, I am going to discuss with you about this homemade dessert pizza recipe, that is healthy flatbread and indulgent. Will inform you, how to prepare sweet pizza recipe with chocolates, caramel and of course with seasonal fruits that can drizzle your pizza party. You can prepare dessert pizza recipe fruit that is cooked mixing with some seasonal fruits; it's too yummy and healthy, easy strawberry pizza dessert recipe is a mouthwatering delicious recipe, peach dessert pizza recipe can catching your eyes with its colors and favorite snack of kids. Dessert pizza recipe easy to prepare at your own home, how? Read this content carefully.
Some Dessert Pizza Recipes:
Here are some recipes of dessert pizza:
1. Caramel Apple Dessert Pizza:
We generally opt for something light to take in the morning and evening time, something that is crispy and toasty. In free time you can prepare drizzle pizza dish with caramel sauce. Somehow it is similar to pizza hut apple dessert pizza recipe. Now see the ingredients to prepare caramel apple dessert pizza side dish Instant yeast, Brown sugar, Hot water, Olive oil, Flour, Salt, Finely diced and peeled apples, Brown sugar, Nutmeg, Cold butter, Oatmeal, Cinnamon, Caramel sauce, etc.
Instruction:
Now follow the instruction to cook caramel apple pizza dish; firstly combine warm water with yeast in a large bowl then set it for a few minutes. Next stir the olive oil, brown sugar, flour, and salt. Heat it until it becomes stretchy and dough and then set it for thirty minutes to rise. For the moment take peel and dice apples and toss them with flour, nutmeg, cinnamon, and brown sugar. Then grease it lightly pizza pan with cornmeal. Preheat it on the oven for 400°F. After that lightly brush pat bread with olive oil and spread sliced apple on the top of the dough. Mix other spices with it and ultimately baked it 28 minutes till apples are tender and become brown. Now serve it with vanilla ice cream and caramel sauce with your family.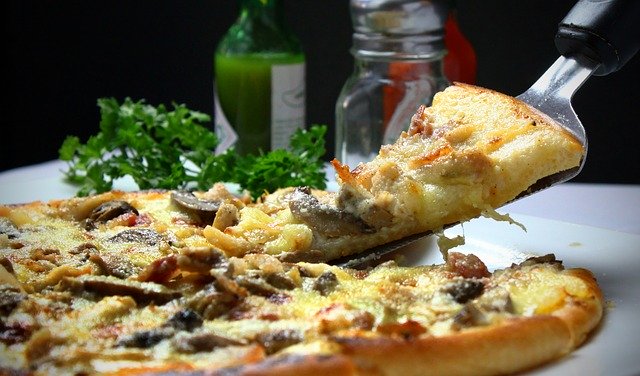 2. Makeover Fruit Pizza:
There is nothing better than healthy refreshing and colorful fruits that are full of calories, fats, vitamins, and cholesterol. Feel home taste with this makeover fruits pizza recipe. You just need 25 minutes for chilling and 10 minutes for cooling. Here the ingredients of this recipe sugar, cold butter, flour, salt, cornstarch, pineapple juice, lemon juice, cream cheese, vanilla extract, fresh strawberries, fresh blueberries, mandarin oranges, etc.
Directions:
Preheat the oven to 350°F and then in a large bowl mix flour, sugar and butter until it becomes crumbly. Baked the pat bread minimum 12 minutes then cool it on a wire rack. Next in a small saucepan add the ingredients till its smoothness then boil it cook it until thickened about two minutes. Now in a bowl strike sugar, vanilla, and cream cheese. Refrigerate it until it becomes cold.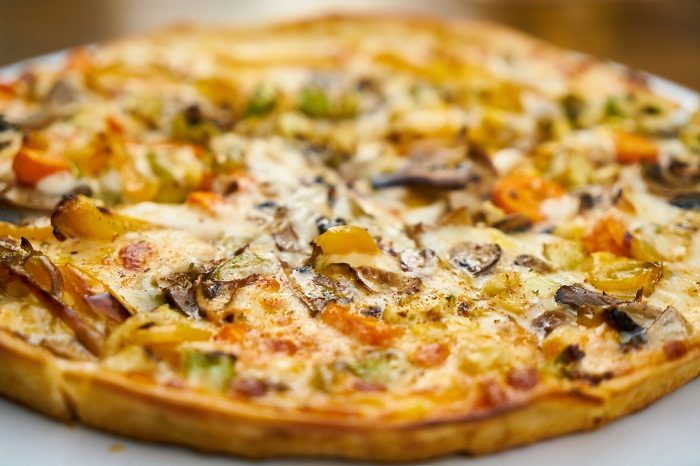 3. Frosted Brownie Pizza:
To prepare this mouthwatering pizza recipe you need just 25 minutes for baking and cooling. This crunchy, buttery frosting, the chocolaty crust can make your evening pizza party joyful. You need cubed butter, an ounce of unsweetened butter, sugar, flour, lightly beaten eggs, peanut butter, vanilla, milk, toasted coconut, chopped pecans to prepare this delicious one.
Instruction of this recipe:
At first, take a small pan and heat it over low heat to melt butter, chocolate, and sugar. Then remove from the oven and stir flour until it becomes smooth. Add eggs and beat them then spread into the pizza pan. Next baked it over 350°F for fifteen minutes and then cool it completely. After that for frosting take a bowl and mix sugar, peanut butter, vanilla, milk and on the top mixed pecans and coconuts. This recipe carries huge nutrition values cholesterol, fats, vitamins, sodium, carbohydrate and protein.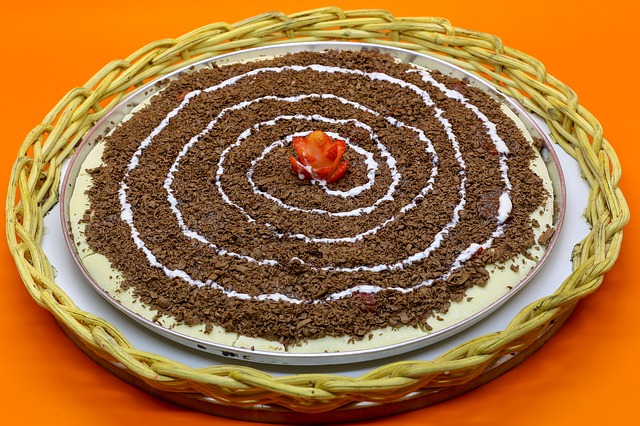 4. Brownie Dessert Pizza:
Brownie Dessert Pizza with a mini candy bar and drizzled with marshmallow can put a smile on your beloveds face especially kids like this dessert pizza. Through this dessert pizza, you can spread happiness to your family in the summer evening. The mini milky candy bars are favorable to everyone. Now we make this delicious homemade food, so the ingredients that you need are brownie mix, a jar of Nutella, semi-sweet chocolate chips, sprinkles, marshmallow cream, and mini Milky Way bars.
Directions:
Read this instruction to prepare a brownie dessert pizza, firstly preheat the oven over 350 and spray non stick cooking pizza pan and set it aside. Now prepare brownie mix following the instruction of the back of the box. Then blend chocolate chips into brownie mix and prepare it on the pizza pan. Now bake for 25 minutes and then leave it for cooling. Once it cools add Nutella, mini candy bars top on it and cut into sliced to share.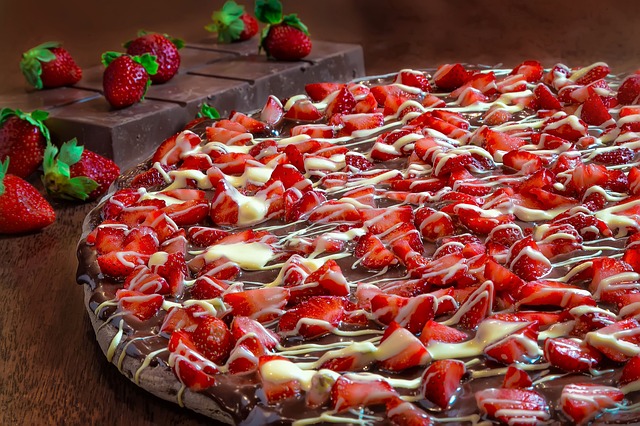 5. Chocolate Pizza Recipe:
Swimming into the chocolate makes this pizza mouthwatering to everyone. It is the soft, chewy and slightly crusty pizza that covered with semisweet, white chocolate bars, milk, and Nutella. I'm sure once you taste this one you want to it again and again. Now follow the ingredients to make this one. You just need milk powder, flour, granulated sugar, salt, yeast, vegetable oil, melted butter, warm water, semisweet chocolate chips, white chocolate chips, milk chocolate chips, and mini marshmallows.
Instructions:
At first, take a large bowl and place flour, milk powder, yeast, sugar, whisk, salt together in it. Add oil and whisk and mix. Now gradually pour it in the warm water and squeeze together until it becomes smooth and take dough form. If this dough is still sticky then add some flour on the bowl. Now continue kneading until get smooth and elastic. Note the point that it is not dry. Next, transfer this into the oil pan and cover it with oil. Covering with plastic drape put it in a warm place. Bake it for 15 minutes and brush it with melted butter. Now baked it for 12 minutes and spread all over chocolate bars. Now you can serve this tasty dessert pizza with your family friends.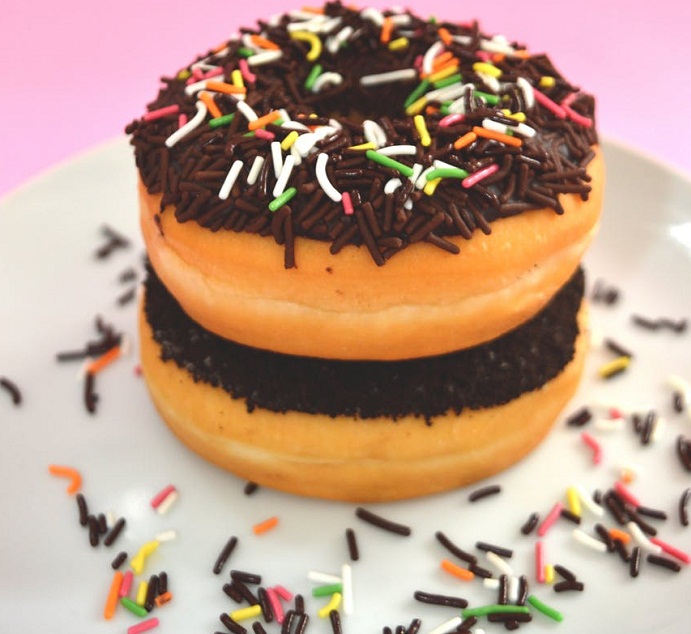 Conclusion:
After this content hopes you gonna try to prepare dessert pizza recipe for your family. It is better to avoid outside food and cook delicious food at your own home. With this, you can also save your money and time.