Healthy Meals And Snacks Ideas For Your Growing Children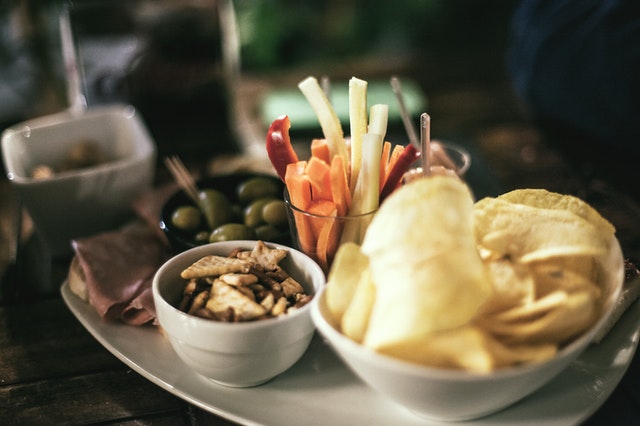 It is so important for growing children to be eating healthy, nutritious meals. It can be so easy for us all to slip into bad habits and rely too heavily on take away and microwavable foods.
Let's have a look through some quick, easy but healthy meals you can start cooking for your young children.
Vegetables
We all should be trying to eat as many vegetables as possible, as they are so good for the human body. Tell your children from an early age that eating vegetables is good for them.
If you struggle to get them to eat all the vegetables on the plate, try to cover up their taste with other ingredients or even sauces like tomato ketchup. If all else fails you could even try bribing them with a piece of cake or chocolate for dessert as a reward for clearing their plate.
Fruit
Eating fruit as a part of a healthy balanced diet is vital for growing children. Although it can be easier to just offer them sweets and chocolate which is more appealing to their taste buds, you should try to encourage them to eat varied fruits from a young age to get them into good habits as they grow older.
Why not try steaming some apples, to make the texture softer for your children to eat. Don't worry if you haven't used a slow cooker before as most of the newer devices are easy to operate and will even pop up with info like a burn message, to help make sure you don't burn those sweet apples.
We should all be trying to eat five pieces of fruit each day, which may sound a lot but is easily achievable.
Try your young ones off with the sweeter fruits such as bananas, oranges, pears and the like. If they are not too keen on fruit by itself you should try and add the fruit to other dishes to encourage your little ones to eat them, such as having a banana split.
Try to keep varying the different fruits they eat, as each fruit has different vitamins our bodies need. Also this way they shouldn't get bored of eating the same dish everyday and there are many different variations you can create with different fruits.
Pasta
Children seem to love pasta dishes, like spaghetti and pasta shapes. Eating pasta is great for getting the carbohydrates that your child needs for energy which they are sure to be burning off with all the playing and running around they do.
Pasta is also an excellent dish to add those vital vegetables in, as they can be easily hidden in the dish if cut up small enough.
Pasta is relatively cheap to buy and is also very quick to cook, so is perfect if you need to whip up a meal for your child as quickly as possible.
Pizza
What child doesn't love pizza, or adults for that matter! Although not the healthiest of options, it is possible to create a healthy, hearty pizza.
Try to create your own pizza instead of a take away or shop bought pizza. This way you can add the ingredients yourself to try and make it as healthy as possible and get your children helping to create the pizza. Home cooking is always better for children that take away foods, where there will be lots of hidden ingredients and normally too much salt.
Try not to use too much cheese, as cheese can be quite fatty, but instead use lots of other ingredients like mushrooms, tomatoes, spinach for extra toppings.
Bangers and Mash
This type of meal is perfect for those cold winter evenings to help warm up your child. Try not to plate up too much mash, but bulk up the meal with either a side salad or peas.
A little bit of butter in the mash can go a long way, but if your child finds plain mash a little boring then try adding some tomato ketchup with the mash, mixing it all up. Doing this can also make for an interesting colour of mash, which your child is sure to love.
Chicken and Bean Tacos
Try to introduce different flavours into your child's diet by cooking them some chicken and bean tacos. Using an instant pot cooker for this dish is highly recommended.
Try adding flavours like paprika or chili garlic to the pot cooker whilst cooking the chicken and beans.
Once all the ingredients are ready instead of plating up everything, place all the cooked food in a bowl with the tacos on the side, and let your children fill up the tacos themselves. By doing this it can make dinner time a little more playful for them. Although this may become a little messy, it certainly is a bit more fun.
Ice Cream
Treat your children every now and again with an ice cream dessert. Try to make this a weekly or twice a week treat, instead of it being daily. Use an ice cream dessert such as an ice cream sandwich as a reward for eating a healthier main meal, that can be packed with vegetables.
Children will almost certainly try and clear their plate of the healthy meal you have prepared for them if they know that ice cream will be the reward, as everybody loves ice cream!
Like previously mentioned, try to add some fruit with the ice cream dish as your child is more likely to devour it all up if it is hidden or surrounded by ice cream. Bananas or strawberries work really well with ice cream.
As you can see there are plenty of different ideas to get your kids eating healthier meals to help their growing bodies.
Try to be inventive with flavours, introducing them to all different styles of food as this will not only help their development but will certainly make them more open minded to food in their adult life.
You can never be too early into getting your child into good food habits, so what are you waiting for!