Veranda Grand Baie Hotel & Spa | Best Hotels in Mauritius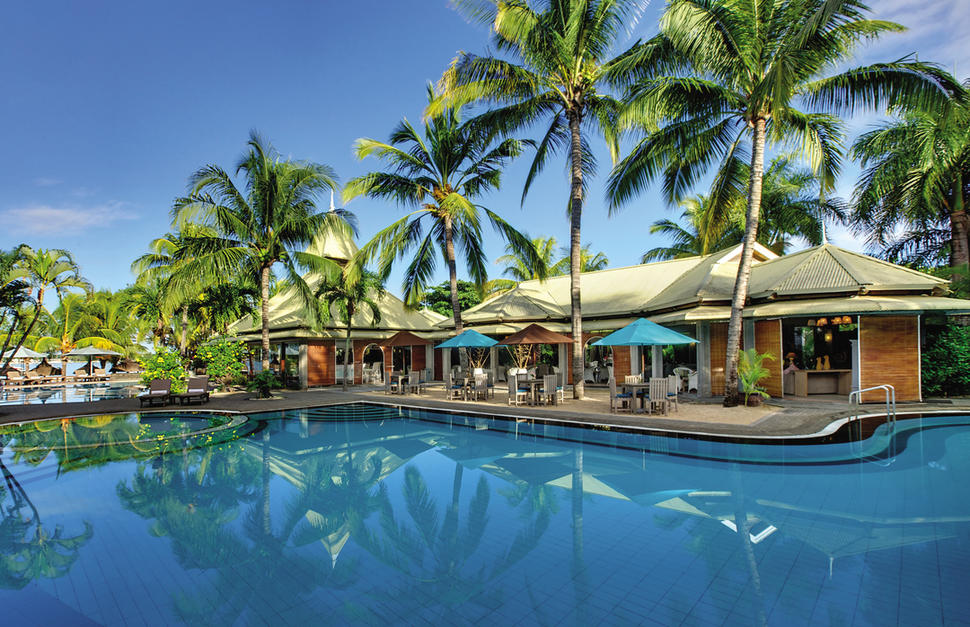 There is no surprise in the fact that Mauritius is naturally a very gorgeous vacation destination and hence a frequented holiday spot for many tourists. Vacation time is in itself a memorable and special time, but when you are planning a holiday in Mauritius, the time spent there becomes even more special. To make it all the more memorable, it is only obvious that you choose one of the best hotels in Mauritius for your stay.
However, you need not worry about surfing through the tons of amazing best hotels in Mauritius because we have already done the job for you. We bring to you an amazing hotel- Veranda Grand Baie Hotel & Spa which lies at the center of Grand Baie which is a vibrant village of Grand Baie.
Veranda Grand Bay Resort & Spa is unlike any other hotel where you would have gone by now. Surrounded by natural beauty, the hotel brings numerous restaurants, peppy nightclubs, bars, and colorful shops, right at your doorstep.
Moreover, if you want to have a close experience of the local life or want to reach out towards the beautiful islands of the north, then also the hotel proves to be the best. Did this small introduction, piqued your curiosity more? If yes, then continue reading to know more about this precious gem-like hotel!
An Overview of Veranda Grand Baie Hotel & Spa
Veranda Grand Baie hotel & spa is just like a mesmerizing oasis in the heart of the lively Grand Baie. As soon as you first step in the hotel, you get a warm welcome with the beats of a traditional drum by a local musician.
Dressed in the country's national dress, just with a wave of his magic wand like straw he will not only invite you in the hotel but will also make you feel at ease.
This peppy welcome marks the beginning of a fun-filled vacation which will cover a range of activities from exciting shopping to extensive sightseeing.
If you are a traveler who loves to visit new places and meet new people but needs their own time in peace amidst natural beauty, then this hotel will prove to be just ideal for you.
Being seated under the shade of swaying coconut trees on the small beach of the hotel gives you a golden chance to admire gorgeous views in peace since it faces the most beautiful and famous bay in Mauritius.
Just by being here, you will get a taste of the quiet and amazing serenity of the vibrant Mauritius lifestyle.
It has been for more than 30 years, that the people are loving their stay at this hotel and still continue to come here in order to enjoy the exceptional view of an iridescent lagoon spotted with countless sailing boats, catamarans, and yachts.
Benefits of Choosing Veranda Grand Baie Hotel & Spa
Without including the details, if you wish to hear a candid description about Veranda Grand Baie Hotel and spa, then it would definitely be a treasured hidden gem nestled in the heart of a vibrant beach town. The description evokes a picture that appears to have come alive from a fairy tale book.
The gorgeous surroundings, scenic views, glistening bay around, luxuriant tropical gardens and an exceptional ambiance just like island habitations, are just enough reasons to answer your question, why to choose Veranda Grand Baie hotel and spa.
The hotel is one of the best all-inclusive hotels in Grand Bay Mauritius and is not just a perfect way to have a glimpse of the way of life in a lively local village in Mauritius but is also ideal if you wish to spend some quality time with yourself or your partner in natural beauty.
Staying at this hotel, you get additional brownie points of tropical wellness too. For the disabled guests, the hotel also provides two good rooms, both of which are located on the ground floor for their convenience.
Even if you are on a Mauritius vacation, to celebrate a special occasion then why not make it memorable by celebrating it at a gorgeous place that faces the legendary bay and sports a beautiful island ambiance.
Rooms, Dining and Other Amenities at Veranda Grand Baie Hotel & Spa
The hotel is home to around 94 cozy rooms which are completely air-conditioned and feature LCD televisions as well as a fully stocked minibar. The room comes with private balconies or patios and for your entertainment, all rooms have complimentary wireless Internet access as well as satellite programming.
There is a private bathroom attached in each room which features hairdryers and complimentary toiletries as well. Staying at this hotel means that you are at a distance of just 15 minutes' walk from the Grand Bay Beach and Merville beach.
The hotel also hosts a wonderful spa that offers a number of relaxing body treatments, facials, and massages.
There are several other amenities like a spa tub, an outdoor tennis court, an arcade or game room and even an outdoor pool for you to completely enjoy your stay. The resort also provides babysitting or childcare services.
If you wish, you can enjoy some international cuisine in the hotel by visiting Le Mon Plaisir which is an amazing beachfront restaurant featuring a pool view as well as a stocked bar or just quench your thirst by sipping in your favorite drink at the wonderful poolside bar.
Other than these, the hotel also provides dry cleaning service, a 24 – hour front desk, laundry facilities, and even a roundtrip airport shuttle service.
Book one of the Mauritius honeymoon tour packages with Smart Holiday Shop and not only have an amazing vacation but also a memorable stay at these best hotels in Mauritius!