Dubai Amusement Theme Parks: Must-Visit Family-Friendly Theme Parks in Dubai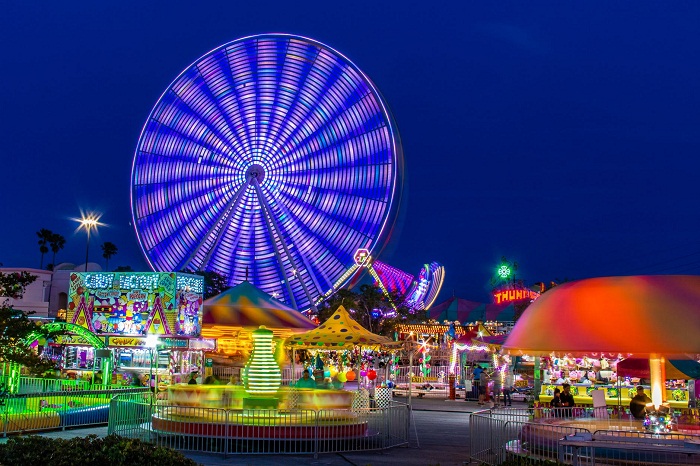 Dubai is the perfect location for those who are looking for a family-friendly holiday destination. The attractions of the city cater to everyone, right from the tiny toddler to the old. There are numerous places in Dubai where you can enjoy sightseeing. However, if you want to take a break and enjoy a day full of fun and adventure, there is nothing better than the theme parks for the same. The theme parks in Dubai are not only popular for their thrilling rides and attractions but also for their state-of-the-art amenities and facilities. If you are planning are a family vacation to Dubai, there are some indoor and outdoor theme parks that you must visit.

1. Dubai Parks and Resorts
The largest integrated theme park in the Middle East, the Dubai Parks and Resorts is home to three theme parks, one water park, and a luxury hotel. There is also a central area popular for retail therapy and luxury dining. Here is what you can enjoy at Dubai Parks and Resorts.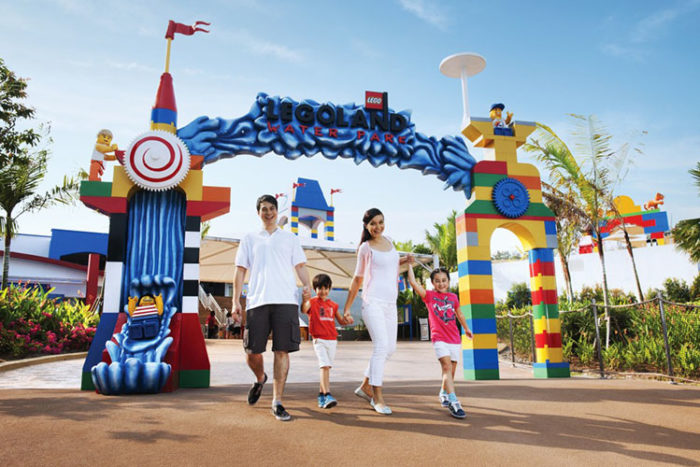 Motiongate Dubai:
A Hollywood theme park, Motiongate Dubai has around 27 fun rides based on adventure, magic, thrill, and fantasy. There are four themed zones at the park: DreamWorks Animation, Sony's Columbia Pictures, Lionsgate and The Smurfs. You would see several of your favorite movies recreated here through rides and other attractions. The best thing is that you would get to live your dream of being part of some of your favorite Hollywood Movies like Kung Fu Panda, Hunger Games, Smurfs, etc.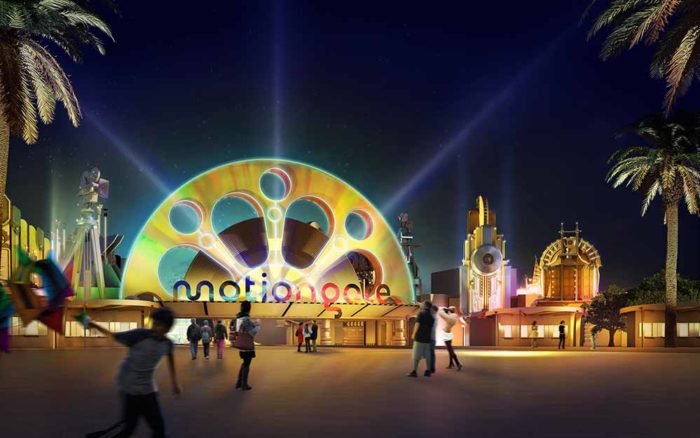 Timings: 11 AM to 10 PM
Best Rides/Attractions: Zombieland Blast-Off, The Green Hornet: High-Speed Chase, Underworld 4D, Hotel Transylvania, Flint's Imagination Lab, Smurf Village Express and Kung Fu Panda: Unstoppable Awesomeness.
Bollywood Parks Dubai:
A one-of-a-kind theme park, the Bollywood Parks Dubai is dedicated to the Hindi film industry based in Mumbai, India. Through amazing performances, fun rides, and sensory experiences, you would get to enjoy the journey of Bollywood from the 1960s to the present time, which reliving some iconic movies. One thing you should not miss here is Jaan-e-Jigar, a Broadway-style musical that tells the story of two brothers in typical Bollywood fashion.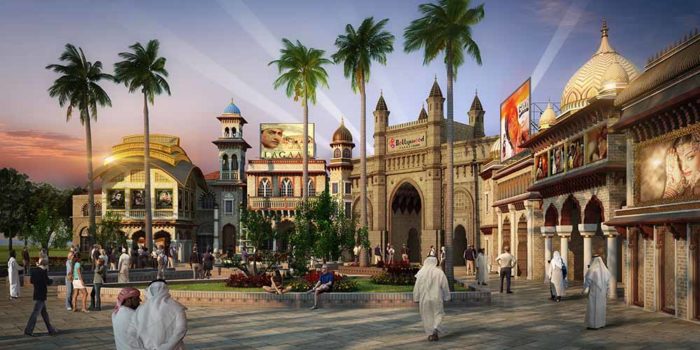 Timings: 4 PM to 12 AM
Best Rides/Attractions: The Park has five zones: Bollywood Boulevard, Mumbai Chowk, Bollywood Films Studio, Rustic Ravine, and Royal Plaza.
Legoland Dubai:
Based on the popular game of Legos, Legoland Dubai can be divided into two: Legoland Dubai and Legoland Water Park. A theme park and water park created entirely with Legos, this theme park is perfect for kids between the ages of 2 and 12. Legoland Dubai lets the kids indulge in a lot of fun rides and activities. Legoland Dubai has six zones: Lego City, Imagination, Kingdoms, Miniland, Adventure, and Factory, while Legoland Water Park has 20 amazing slides, pools and other kinds of attractions.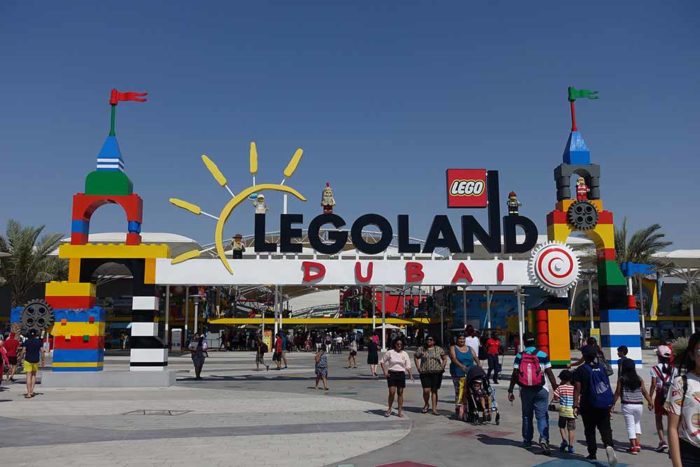 Timings:
Legoland Dubai: 10 AM to 8 PM
Legoland Waterpark:10 AM to 6 PM
Best Rides or Attractions:
Legoland Dubai: Rescue Academy, Merlin's Flying Machines, Pharaoh's Revenge, Lost Kingdom Adventure, and LEGO Technic Twister
Legoland Waterpark: Wave Rider, Build A LEGO Raft, LEGO Slide Racers, Red Rush and Joker Soaker
2. IMG Worlds of Adventure
An indoor theme park (considered the largest in the world), the IMG Worlds of Adventure recreates some of the best entertainment programs or brands. The theme park is spread around an area of 1.5 million square feet and has four amazing zones that are Cartoon Network, IMG Boulevard, Marvel Comics, and Lost Valley Dinosaur Adventure. While IMG Boulevard is the welcome zone of the park, the other three zones would entertain you with its fun rides and awesome attractions.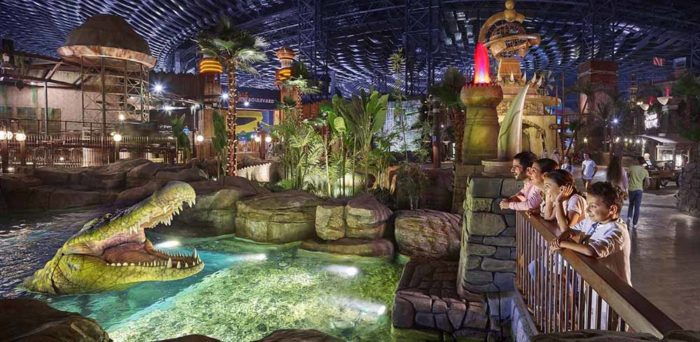 Timings: 11 AM to 9 PM (Sunday to Wednesday) and 11 AM to 10 PM (Thursday to Saturday)
Best Rides/Attractions: Hulk Epsilon Base 3D, Ben 10 5D Hero Time, the velociraptor, Forbidden Territory, Avengers Flight of the Quinjets and the Amazing Tide of Gumball
3. Dubai Dolphinarium
Dubai Dolphinarium is one of the best family-friendly attractions in the city. While you can visit the premises anytime to look at the resident bottlenose dolphins, the fur seals and the parrots, the main attraction of the place is the amazing dolphin and seal shows that are conducted every day. During the show, you would get to see the dolphins and seals paint, dance and juggle. If you are lucky, you would also get to touch and interact with these fuzzy sea animals.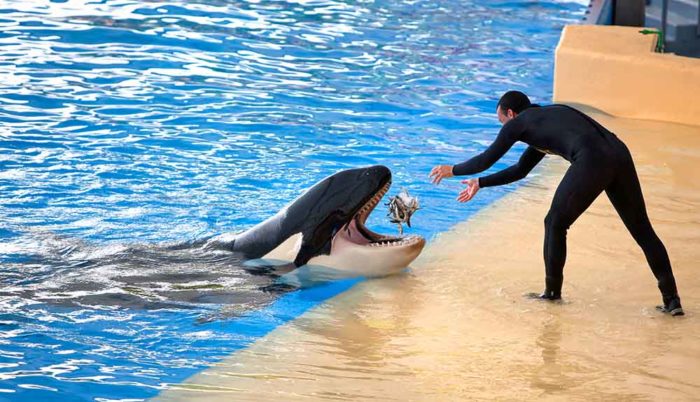 Timings: 10 AM to 7:30 PM (Sunday Closed)
Best Rides/Attractions: Dolphin and Seal Shows, Swimming with the Dolphins, Creek Park Exotic Bird Show, Mirror Maze, and Trampoline Park
4. Dubai Garden Glow
The city of Dubai has always astounded the world with its innovation, and the Dubai Garden Glow is the testament for the same. Every winter, Zabeel Park turns into a glowing paradise with light sculptures illuminating the entire place. Every year, artists from around the world come to create some marvelous light sculptures as per the theme of the season. However, Glow Park is just one of the zones. The park also has other zones, including a play area for kids where they can indulge in educational yet fun activities.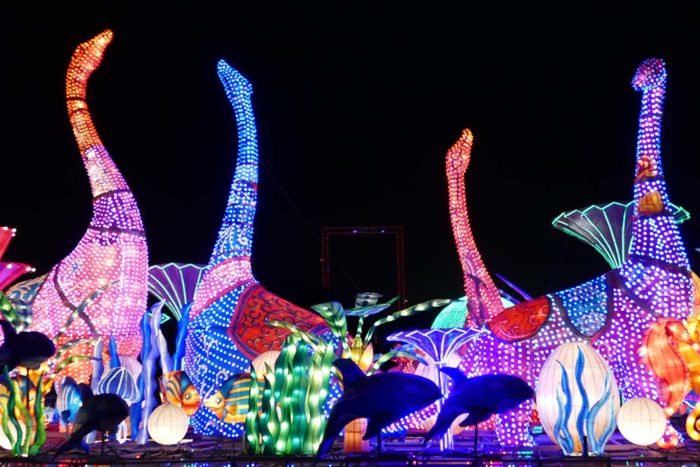 Timings: 4 PM to 12 AM
Best Rides/Attractions: Glow Park, Ice Park, Dinosaur Park, and Art Park
5. Dubai Mall Aquarium and Underwater Zoo
The Dubai Aquarium and Underwater Zoo are located inside Dubai Mall. The main attraction of the place is the huge tunnel that holds 10 million liters of water and has more than 140 species of marine animals, including 300 sharks and rays. On the upper floor, there is an underwater zoo, which is divided into Rocky Shore, Rainforest and Living Ocean. Here, you would get to see some interesting variety of underwater animals like lionfish, Humboldt penguins, water rats, crocodiles, seahorses, otters, giant spider crabs, etc. A visit to the aquarium is both fun and educational.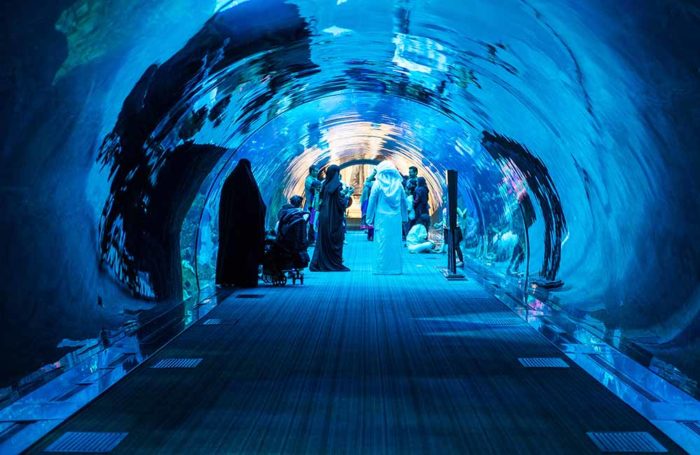 Timings: 10 AM to 11 PM (Sunday to Wednesday) and 10 AM to 12 AM (Thursday to Saturday)
Best Rides/Attractions: Dubai Aquarium Tunnel, VRZOO, Shark Encounter, Shark Dive, Cage Snorkelling, Shark Walker, Scuba Diving, UAE's Night Creatures, and Glass Boat Tour
6. Ski Dubai
The world's largest indoor ski park is in Dubai. Located inside the Mall of Emirates, Ski Dubai is spread around an area of 22,500 square meters, which is completely covered in snow. The skiing area includes 5 slopes with different height and difficulty levels. Ski Dubai is perfect for beginners as well as professionals. Along with the ski park, there is also a Snow Park, where you can indulge in fun snow activities.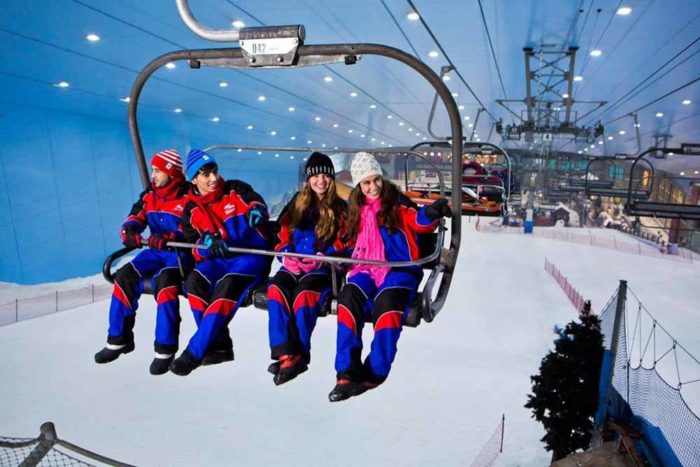 Timings: 9 AM to 11 PM (Saturday to Wednesday) and 9 AM to 12 AM (Thursday and Friday)
Best Rides/Attractions: Skiing, snow bullet, snowboarding, zorbing, tobogganing, penguin encounter, swimming with the penguins
7. Kidzania Dubai Mall
If you want to relax while your kids are occupied with something educational and interesting, there is nothing better than Kidzania Dubai. This theme park is a kid-size city where children would get to choose amongst 80 professions including aviation, dentistry, construction, fashion, etc. Kidzania is a great place to not only have fun but also to hone their creativity and develop their decision-making skills. While kids have fun at the theme park, parents can sit in the adult's lounge with a cup of coffee and a snack.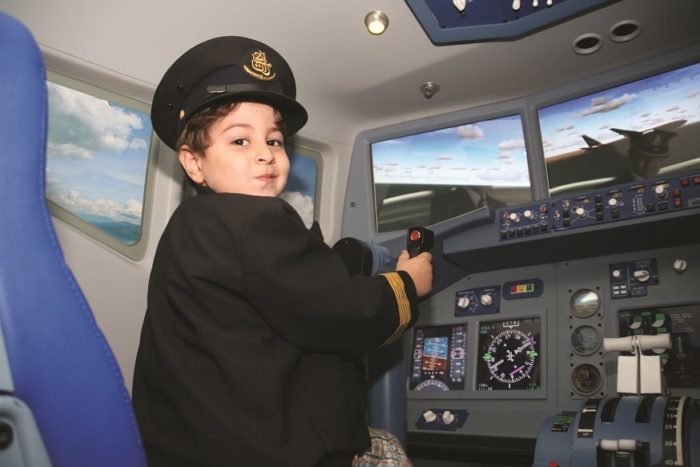 Timings: 10 AM to 10 PM (Sunday to Wednesday) and 9 AM to 11 PM (Thursday to Saturday)
Best Rides/Attractions: Tiffany Cookie Making, NAFFCO Fire Station, Flight Simulator, Emirates Driving Institute, Kinder Chocolate Factory, and Radio broadcasting at Star FM
8. Dubai Ice Rink
Another fun place in Dubai is the Dubai Ice Rink, which is located at the Dubai Mall. The Olympic-sized ice rink is a great place to hang out with family and friends and try ice skating. The Ice Rink is open to beginners, experts, and even children. If you are new to ice skating, you can also book lessons in advance. Once you have fun with the ice skates, you can go to one of the cafes nearby for a warm drink and snack.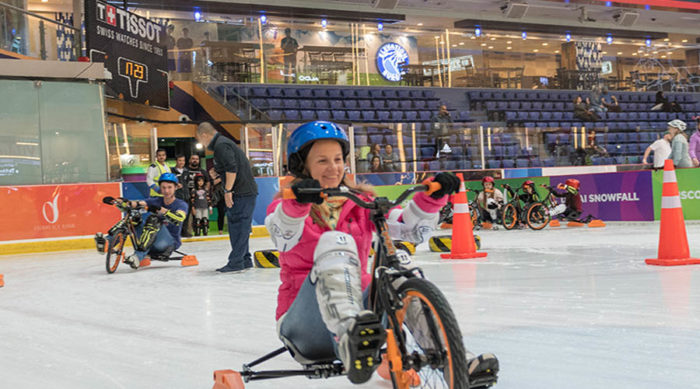 Timings: 12 PM to 2 AM
Best Rides/Attractions: IceBykes, freestyle sessions, and snowfall
9. Dubai Miracle Garden
One of the top theme parks of Dubai is the Dubai Miracle Garden, which is the largest flower garden in the world. Holding more than 40 million colorful blooms, it is truly a paradise in the middle of the desert. What makes the flower garden even more attractive are the unique designs in which the flowers have been arranged. What's more, the Dubai Miracle Garden opens only during the winter months, and every season gives the visitors something new to look forward to.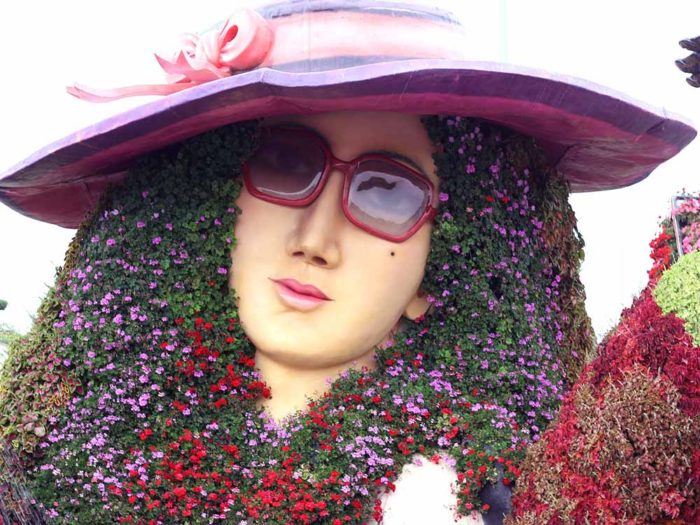 Timings: 9 AM to 9 PM (Sunday to Thursday) and 9 AM to 11 PM (Friday and Saturday)
Best Rides/Attractions: Structures made of flowers: The Emirates Airbus A380, the Hearts Passage, the Floral Auditorium, the Umbrella Roof, the BurjKhalifa and the Eiffel Tower.
Conclusion:
The numerous outdoor and indoor theme parks in Dubai are perfect to keep your family, especially your little ones entertained and engaged during your holiday in the city. Apart from these amusement parks, there are several gaming zones and water parks where you can have the time of your life.