Why You Should Already be Preparing for Next Year's Christmas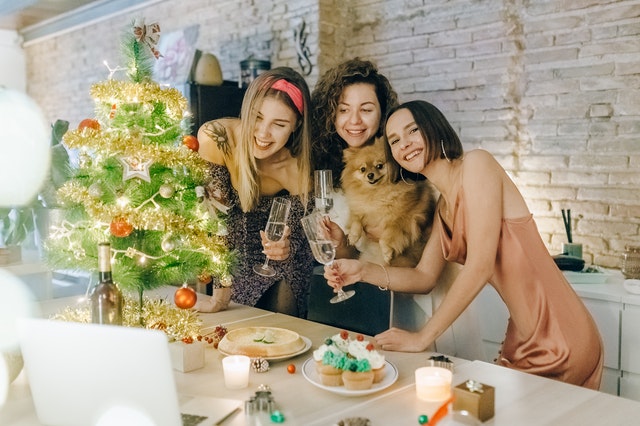 Planning for the holidays ahead of time is a smart idea, but one that most of us avoid. Who wants to join the crazy Christmas crew? I mean, have you seen the looks those people get stocking up on discount wrapping paper? Well, call us black sheep, but we think early Christmas planners get a bad wrap—pun intended. Here are all the reasons you should already be preparing for next year's Christmas.
The Time is a DIY Blessing
The weather may not be a winter wonderland yet, but you can still start on the DIY projects you plan to give as gifts. With the extra time, you'll make your projects better than they ever could be if you were to stick to your usual scramble the night before Christmas. Your loved ones will be impressed with your handmade presents. Seeing the elbow grease that you put into making these gifts will bring out everyone's Christmas spirit.
Christmas Decorations at Discount Stores
If you're looking for Christmas decorations, look no further than discount home goods stores. From Marshalls to TJ Maxx, you'll find a great selection of discount Christmas decorations that will match your budget and style. You'll find some fantastic deals on select items like Rae Dunn's Christmas ornaments as well as a few ceramic ornaments typically reserved for the 1% at Kirkland's. Who says you can't be prestigious too!
The Awesome Deals
While we don't suggest you put up your tree just yet, you can find stockings and artificial trees at insanely low prices now that the holiday season is over. You can even find great deals at name-brand stores like West Elm and Wayfair to find your perfect Christmas stockings and artificial trees without breaking the bank.
The Opportunity to Save
The holidays are a time we feel strapped for cash. Instead of going overboard with your purchases, start saving ahead of time and make a savings plan. Decide that you'll set aside a few dollars every week until Christmas so that you can build up as much cash as possible before the holiday goodies roll out.
Plan the Family Christmas Card
Getting the family together for the Christmas card is always stressful. With the extra time, you can plan ahead and make sure to coordinate your family get-together in a way that matches everyone's schedule. You can spend time selecting the best photographer for the job and even consider outfit coordination ahead of time to capture that perfect pic.
Keep Track of Everyone on your List
Well before the holiday season hits, make a note of everyone on your list. This way, you can make sure you won't leave anyone out. Even consider the colleagues, teachers, and coworkers you'll need to buy gifts for as part of any official exchanges that happen during the season. If you know that someone wants something special already, keep track of that as well on your list so you can be sure to find the best deal on the item well before the Christmas prices come out to play.
Think of Those Extra Things
When you plan at the last minute for the holidays, you're more likely to overlook some of the remarkable things that you wish you could've included if you had more time. If you like the elf on the shelf game, this is one of those little things that you might want to write down before the holiday season hits, so you remember to include this bit of holiday fun. Maybe you want to try a new Christmas cookie recipe or find a new way to glaze a Christmas ham. By planning ahead of time, you can make the holidays memorable by taking extra care to pay attention to the little details that make the season so special.
Plan for any Traveling
If you know that you'll be visiting family during the holiday season, you can take this extra time to plan for any traveling. Look for the best deals and flights, car rentals, and any other essentials you'll need during this time. The further out you plan your trip, the more prepared you'll feel. Traveling can also require many last-minute purchases that you can plan for ahead of time, so you're not spending extra money on airport goods.
For example, if you know that your significant other needs a pillow to rest comfortably on the airplane, avoid the overpriced airport versions and plan by buying one of these pillows at a store near you beforehand. If you know your kids get antsy on long trips, you can plan to create an entertaining plan for them as well. You can load up on movies and buy them fun workbooks like crossword puzzles or mazes to give them something to do while they are traveling with you. Again, to avoid the overpriced airport versions, look for discount steals on puzzle books at bookstores and dollar stores near you.
Make your Amends in Advance
The holiday season is the time for giving back, but it is also a very stressful time for families. Seeing relatives often brings up unresolved issues and negative feelings that can put a damper on the holiday spirit. To avoid any negativity this season, consider being the bigger person and make amends with any family members you are at odds with. Keeping the peace and letting the dust settle as time goes on, by the time Christmas rolls around, it will be much more comfortable for everyone to get along and enjoy the season that much more.
We know that you're busy and probably have other things to do besides plan for Christmas and the holidays, but it is truly the most wonderful time of the year, or, at least, it should be. If you do everything you can to make this time the best possible, then your early planning will have come in handy. Make next year's Christmas worth the hassle and start planning today.