How to keep Your Bridal Mehndi Darker?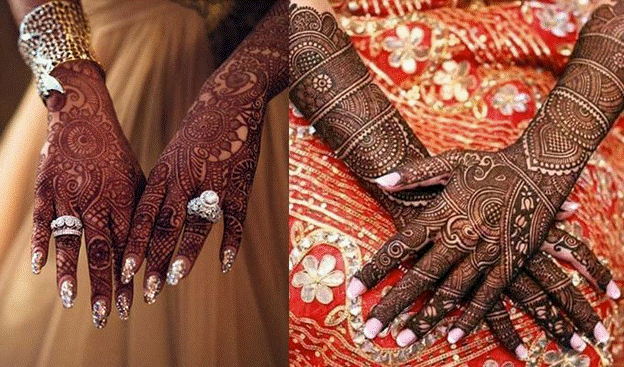 The bridal mehndi function is a crucial function of your entire wedding celebrations. It is a huge part of the big fat Indian weddings. Mehndi increases the glow of the bride and makes it more beautiful. It is usually said, the darker the mehndi, the deeper is the love of your partner. Here are some tips to make your bridal mehndi darker.
1. Old is Gold: Lemon & Sugar
This is an age-old remedy, the mixture of lemon and sugar is required to darken the bridal mehndi color.
How to prepare: Boil a cup of water with 2 tsp of sugar in it. Add the juice of half a lemon.
Apply this mixture once your mehndi dries, at least thrice. The sugar will keep the mehndi in contact with the skin for deeper and better penetration, while the lemon juice acts as a catalyst for releasing the dye and better penetration of color.
Does this work: This is a tested home remedy that is sure to give you the best results. This mixture helps in retaining a darker color of henna.
2. Fumes of cloves
Another massively followed home remedy for darker bridal mehndi design is by running your hands over the smoke of cloves on a hot pan.
How to prepare: Take some cloves and place them on a pan over a medium flame and let it heat up. Run your hands over the pan to soak in the fumes of the cloves. Try to do this as long as possible.
Does this work: The fumes of the clove helps the color of the henna to get locked in for a long-lasting design. The fumes work wonder when combined with lemon and sugar solution.
3. Using Balms
Once you have removed the dried mehndi from your palms, you can follow this step for a darker bridal mehndi design.
How to prepare: Scrape off all your dried henna from your hands and apply any balm-like Vics Vapour Rub or Tiger Balm all over your hands just like you apply hand lotion covering your entire bridal mehndi design. Leave it overnight and it will get darker by morning.
Does this work: These balms have active agents which stimulate color development and helps in the penetration of henna into the skin by creating heat under your skin. The menthol present in these balms helps to darken the color.
4. Leave for a longer duration
This is probably is the easiest fix to get a darker bridal mehndi design. Leave your mehndi for at least 6 to 7 hours till a maximum of 12 hours.
How to prepare: Peel off your mehndi after a good 6-7 hours. If you are comfortable in keeping it longer, try and keep it for at least 12 hours before coming in any contact with water. As soon as the mehndi comes in contact with water, it starts losing color.
Does it work: Keeping henna for a longer duration will help to lock the color and getting better results.
5. Keep it under wraps
You can opt for this tip to avoid your mehndi design getting messed up. When under wraps, you need not fear your mehndi getting merged, also you can do other things easily.
How to prepare: Once the mehndi design is dried and gets flaky, wrap it up with a thin plastic sheet. You can also use gloves or socks to wrap your mehndi design.
Does it work: Wrapping the mehndi design will lock the heat and the heat is the best possible thing to get your mehndi to darken up.
Here are some other tips to darker your mehndi design:
Ensure to keep your hands and feet clean without any lotion or oil as they can appear to be a barrier between your hand and your mehndi design.
Take your bath as early as possible so that you can delay your next bath for as long as possible.
Waxing after applying mehndi is a very bad idea as it will scrape off the upper layer of the skin.
Do not get in contact with water immediately after the application of mehndi.
Avoid sitting under direct sunlight while applying the mehndi.