DIY Home Decor Craft Projects You Need To Try During Lockdown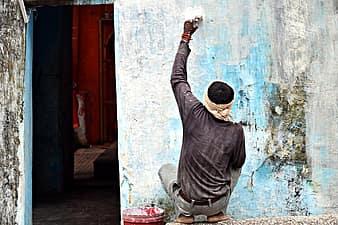 Most of us haven't got involved with arts and crafts after our school days. But today when we are stuck at home because of lockdown, crafts can be a great way to keep ourselves busy. Things get even better if these craft projects can give our interior an amazing boost. We have listed the best DIY projects you can try with your family to give your diy home some artistic touch.
Tassel wall hanging
Tassel hangings are one of the trendiest wall decor items recently. They can be modern or boho according to your preference. These hangings can bring a very relaxing and carefree atmosphere to your interior. They are very easy to make as well.
The supplies needed to make one of these hangings are a metal, wooden, or plastic rod or ring, some yarn or silk threads, tassels of course, and any adornments you may like. You can use feathers, beads, pompoms, or even charms. Dyeing it yourself could be a great option too.
This way you can make it as customized as possible to suit your room. You can find many tutorials on making tassel hangings online.
Paintings
Paintings are one of the best ways to add character to your interior. They can bring a glamorous twist to boring walls. The best way to make paintings pop is to get paintings that contrast with the color of your walls. Getting your favorite paintings can often burn a hole in your pocket. But adding some pops of colors won't cost that much
You can take advantage of the lockdown and get your inner Picasso out. Make your own paintings at diy home that suit your aesthetic. This will be a very fun project to do with your kids.
You can make it a lot easier by getting one of the number painting sets. These sets include a canvas, colors, and everything you may need to make a painting. You can select the painting you want and the canvas will have a rough design of the painting. And different areas of the painting will be marked with numbers. You just have to color the marked areas with corresponding numbers of colors. If you want to get one of these sets, you can buy now online.
Origami
Origami is a very old Japanese art form. It is basically a special way of folding paper into decorative shapes and figures. It has amazing therapeutic benefits as well. It is known for relieving stress and anxiety. Which is much needed in this lockdown.
You can easily get origami paper in your local craft stores and the folding tutorials are widely available on the internet. You can make various shapes with origami paper and hang them wherever you like. You can also make flowers and butterflies and stick them to decorative branches and decorate them in flower vases.
Tie-dye
The latest tie-dye trend has taken the internet by storm. You can see them everywhere be it clothes, decore or even food. Lockdown is the perfect time to catch on this trend.
You can make tie-dye bed sheets, pillow covers, or even curtains. They can bring a very modern yet fun look to your diy home. Use pure cotton fabrics as they work best for retaining colors.
You can tie the fabric in different patterns with cords and strings and then place them into a vat dye. After you are done dyeing, wash them with water and dry as usual. You can find many tutorials on tie-dye on the internet.
String Lamp Shades
This is a very easy and simple way of making beautiful lampshades. This again can be a great project to do with your children.
First, you need to blow up some balloons. Then take some cotton strings or yarn and soak them in glue. You can choose the colors you like. After they are soaked properly, wrap the yarn around the balloon and hang the balloons to dry.
After drying, just pop the balloons and take it out of the shades and they are ready to use.
Clay Modeling
We all know how much kids love to play with clay. If you have some spare time you can get your hands dirty with clay too. It's an amazing material for many projects.
You can make many decorative shapes with clay. Making marbled coasters with clay can be a great idea. Just take two colors of clay and mix them partially. Roll it out and cut the size you need. You can add a bit of gold paint along the sides. This will give it a more professional look.
You can make clay showpieces or jewelry holders as well. Whether you decide to air dry it or bake it, it's quite an easy project.
Recycled Planters
There could be no better way than making recycled planters from old pots and jars to do some arts and crafts and helping the ecosystem at the same time. We all have many old jars, pots, and cans lying at diy home.
These can easily be turned into a piece of art. Take those pots out and get some paint and paintbrush. Make a tiny hole on the bottom of each pot to allow excess water to drain. Then just let your creativity guide you and decorate the pots as you like.
After the paint dries, your custom planters are ready for use. Just add soil and plant your favorite succulents or seeds.
Vertical Garden
Once you have your own planters you really wouldn't want to stop planting. But the problem is many of us don't have enough space to arrange all these plants without suffocating them in one corner. We all know plants need proper air and sunlight to live happily. So you can't just crowd them in one corner.
Nothing to worry, you do not need to dump this project just because of limited space. What you can do is to make a wall display of your plants. You can make it with wooden boards. This way you can give your house an oxygen boost even if you do not have enough outdoor space.
To sum up Lockdowns are very stressful for almost all of us. With so much happening outside, it might be tough to keep your calm. These DIY projects will surely uplift your mood and keep you busy. As a bonus, you get to spend some quality time with your family and your interior gets some refreshing new touches.