Few Mouth-Watering Potato Curry Recipes To Enjoy Your Meals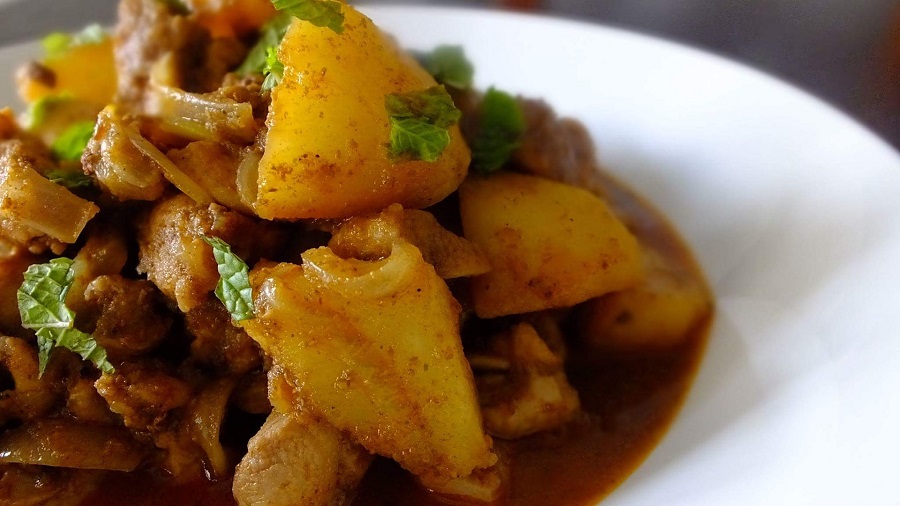 In our daily meals, potato curry recipes are common dishes in the table. The potato is one of the most favorite vegetables to many of us. You can make different and different dishes with this single vegetable. Potato is full of carbohydrates, fat, minerals, fiber and protein within it. Within the kids, the potato is very popular. It is a very healthy vegetable for all kinds of people, is not it? Though the doctor's advice not to eat the potatoes for all the diabetic patients. One can make or prepare any kinds of recipes with the potato in a few minutes. Potato is a root vegetable, which has many healthy or nutritional values in it.
You will find so many recipes of sweet potato curry on the internet. If you interested to learn new dishes every day then you can experiment with some potato dishes. The potato curry recipes require the very minimum of ingredients to make. Recipes of Indian Potato curry can found numerously and the taste is very delicious.
Some Potato Curry Recipes For You To Prepare
To enjoy your lunch or dinner, you can cook or prepare curry recipes of potato by yourself. To change your taste of eating on a regular basis you can experiment with the potato dish. Here I will discuss some of the most mouth-watering potato curry recipes with you all. The dishes are:
1. Potato Tamatar Recipe:
This is mainly the Gujarati dish. In Gujarat, the people of that city love this recipe a lot. One can cook this potato curry recipe within just one hour. Now let us see how to prepare this dish and what ingredients needed for it in brief.
Ingredients:
Two large-sized finely peeled and cut
Three tomatoes finely chopped
Ginger 1 tbsp
Curry leaves 1 spring
Oil 2 tsp
Sugar 1 tsp
Coriander leaves
Salt
Mustard seeds 1 tsp
Cumin seeds 1tsp
Nigella seeds 1tsp
Methi leaves ½ tsp
Chilli powder 1tsp
Coriander powder 1tsp
Cumin powder ½ tsp
Turmeric powder 1 tsp
Garam masala powder 1 tsp
How To Prepare
At first, light on the gas and take a pan. After the pan gets heat, put all the spices along with ginger and curry leaves. Moreover, leave all the elements for one minute. After that, add all the spices powder and mix it very well for ten seconds. Later on, put all the finely chopped tomatoes, sugar, and salt. Then cook them until it gets mushy. Finally, add those potatoes in it and pour some water. Let the preparation to be thick. Your recipe is ready and you can serve it with hot poori.
2. Chilli Potatoes:
It is very spicy and at the same time a Chinese recipe also. Those who love Chinese dishes will also love the taste of this potato curry recipes. Now let us have a quick look at how to make the dish and the required ingredients. After eating these potato curry recipes you will fall in love with the dish.
Ingredient:
Five peeled potatoes
Onion 1 finely chopped
Ginger 1 tbsp
Garlic 1 tbsp
Sugar 1 tsp
Chilli powder 2 tsp
Soy sauce 1 tbsp
Tomato ketchup 2 tbsp
Oil 1 tbsp and for deep frying
Cornflower 2 tsp
Salt taste-wise
Ajinomoto 1 tsp
How To Prepare:
At first, you have to deep-fry all the potatoes until they turn into golden. To make the sauce, take a pan and then add ginger and garlic in the hot oil. After that add the onions, chili powder, sugar, salt, and Ajinomoto, cook them for some time. Later on, mix the soy sauce, tomato ketchup and some water in the pan. After that, put all the fried potatoes and add some cornflowers. Moreover, wait to be thick. Then you can serve the dish with fried rice.
3. Mum's Potato Curry:
This dish is generally cooked in every Indian house. Children have especially loved this kind of recipe of potato curry. Different people make the dish differently. Now I will now discuss the recipe in a short note. Let us have a look at it.
Ingredient:
Potato 3 pieces
Onion 1 large sized
Salt
Oil 1 tblspn
Coconut 1 cup
Dry red chili 3 pieces
Coriander seeds 2 tblspn
Cinnamon seeds 1-inch stick
Fennel seeds 2 tblspn
How To Prepare:
Light on the gas then put a pan on it. Add some oil in the pan. After that, add all the roasted elements in the oil. Later on, leave it for cooling for 10 minutes. Spread one pinch of salt on it and all the left ingredients add into the pan. Later on, boil for 20 minutes in a low flame and mix all the masalas in the pan. When all the things become almost turn into a thick and gravy portion turn off the gas. After that, you can serve the dish with roti or rice.
4. Aloo Butter Masala:
Alo butter masala is one of the tasty recipes of potato. The taste of the delicious dish will mesmerize you and will compel you to fall in love with the dish. You can also serve this recipe with a chicken curry recipe in your lunch and dinner. Now let us have a look at this recipe.
Ingredient:
Oil 2 tblspn
Butter 2 tblspn
Potato 2 large size
Cumin seeds 1 tsp
Onion 1 largely chopped
Tomato 3 pieces
Chilli powder 2 + 1 tsp
Cream ¼ cup
Green chili 1 slice
Sugar 1 tsp
Tomato ketchup 2 tblspn
Salt taste-wise
Kasuri methi leaves 1 tblspn
How To Prepare:
Heat the pan then add the chopped potatoes and tomatoes with all other ingredients. At first, in the grinder, you have to grind the entire side ingredient and make a paste of it. Later on, mix all the ingredients for 20 minutes. For garnishing, you add spread some coriander leaves on it.
Conclusion
Therefore, all these recipes are very famous recipes of potato curry. Though there are, many other dishes can also find.