Every man should have traditional white work shirts in his wardrobe. It's the ideal wardrobe staple for any season or situation because of how timeless and adaptable it is. But as men's stylists, we think our clients would rather see how simple, stylish and easy a white work shirt can be.
The timeless white shirt will always be in style, no matter the situation, be it a business meeting, date, or formal function. A few ways to wear a white work shirt are covered in this article. There are a couple of different styles and materials available as well. If you already have one in your wardrobe, you're halfway to achieving this all-season style.
Why Wear A White Shirt?
The white shirt is the foundation of any gentleman's wardrobe. Versatile, timeless, and effortlessly smart, they're required for almost every conceivable life event — from business trips to weddings, funerals, and graduation ceremonies. This guide will tell you everything you need to know about the stylish staple, and explain why it is — and always will be — one of the most classic garments a man can own.
Best White Work Shirts For Men:
We've put up a list of the top white work shirts for men because there are so many options available. Everyone will be able to get what they need because these fit a range of styles.
Men's White Cotton Work Shirt:
Buy a Tommy Hilfiger shirt, made of 100% cotton, machine washable, and doesn't wrinkle. So, there's no need to steam or iron it. Well, another plus about non-iron shirts is they stay crisp all day, ensuring men look just as good at 5 p.m. as they did at 8 a.m.
Van Heusen White Short Sleeve Work Shirt:
Men are not required to wear long sleeves when wearing a white dress shirt. Men can stay cool in warm weather while maintaining a business casual appearance with short sleeve alternatives. Given that it is 60% cotton and 40% polyester, this Van Heusen shirt is suitable for washing machines.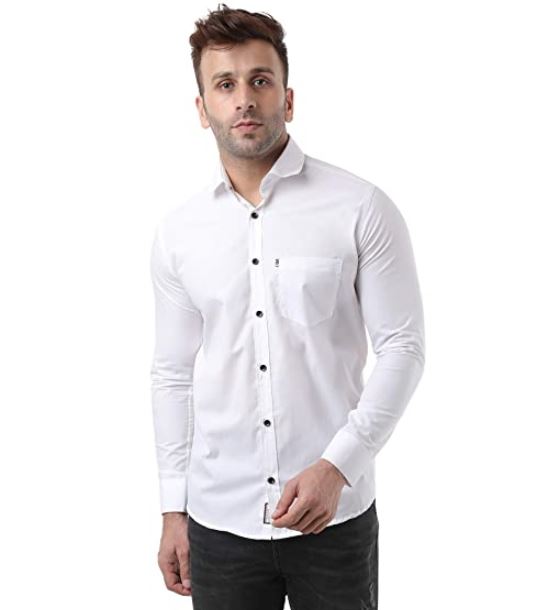 Best Dickies White Work Shirt Short Sleeve:
Dickies used to be known for its tough workwear, but over time, the firm has evolved into something more formal. This button-down with short sleeves has a timeless appearance without sacrificing comfort. It's an excellent work shirt because the fabric is a little heavier than cotton.
Calvin Klein Slim-Fit Designer White Shirts:
100% cotton and machine washable describe this Calvin Klein tee. This shirt differs from others in that it wicks sweat away. The french cuffs also improve the appearance overall.
White Work Shirt With Adjustable Cuff:
Due to the poplin material, which prevents wrinkles from forming throughout the day, this shirt differs from the short-sleeve variant offered by Van Heusen.
Because it's a fitted alternative, it has a wider chest and a thinner waist, making it simple to tuck into suit pants.
Perry Ellis Wrinkle-Free Slim-Fit White Work Shirt:
The greatest non-wrinkle white shirt on the list is this one by Perry Ellis. Additionally, it includes a special motion ease collar that can stretch out an extra half-inch to enable a looser fit when desired.
Lee Uniforms Men's Poplin White Shirts:
White shirts come in various fits, like the Van Huesen poplin shirt that offers a slim fit. The classic fit of this Lee shirt means it will comfortably fit men of all sizes.
Different Ways To Wear White Work Shirts:
Here are ways to wear your white work shirts to help you make the most of this diverse and classic item in your wardrobe.
The Formal Or Business Look:
If you're going to a formal occasion, a suit of any color and a white dress shirt goes along beautifully. When you select a white shirt, you may leave the color to your accessories, such as a statement tie or pocket square. If you're a corporate man, a white shirt will keep your professional appearance sharp and polished and looks fantastic with a navy or grey suit.
Combining a white shirt with a blazer, chinos, or jeans can give you a more relaxed work look. An Oxford shirt, which is a traditional button-down shirt, is ideal for a business-casual look.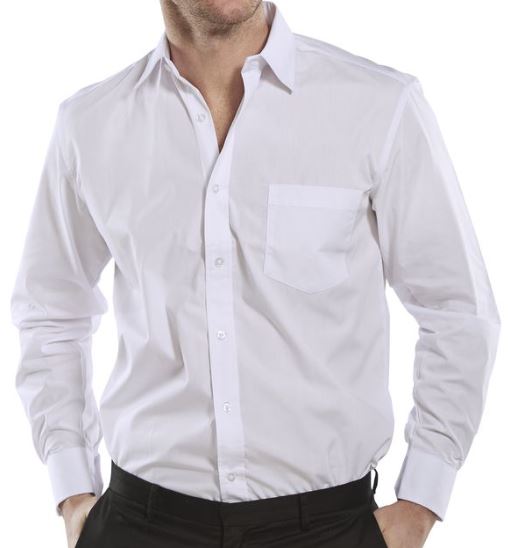 Casual Look:
For a chic and relaxing casual look, perhaps you should consider a white linen shirt. It's a bit more relaxed on the body, working perfectly back with jeans. Keep the look casual with pair of loafers or sneakers and roll the sleeves to your elbow for getting a more relaxed look.
Smart Casual Look:
Finding a medium ground between work and informal attire can be challenging for many men. You may achieve this equilibrium with ease while wearing a white shirt. Wear your white shirt tucked into a pair of sophisticated, slim-leg chino pants for a smart-casual style, and finish it off with a fantastic sports jacket. Choose patterned pants or a pant or jacket in a striking color if you want to be daring. Whether you keep things basic or outlandish, the white shirt is like the glue that holds the whole outfit together.
White Shirt With A Suit:
Whitework shirts are a good choice for formal dressing as well as a casual dressing because they are good to go and classic to carry. They can be paired with suits of different colors and styles.  
Sometimes buying white work shirts can feel like finding a needle in a haystack, the sheer number of options overwhelming. However, there are a few key parameters that can make the experience a little less daunting.
Well, first and foremost know what cut you're after. Any good outfitter should fit you properly, starting with a measurement of the neck and then moving to the torso. Think about what cuff and collar you'd like.
White Shirt With Appropriate Shoes:
The shoes you pair with a shirt depend entirely on the rest of your outfit and where you're headed. For a night out, you can balance a white shirt and navy trousers with some slick white sneakers. Look to more experimental loafer brands like Santoni or even local, Aquila, to experiment with boldly colored tassels and suedes.
What Color Of Pants Go Best With A White Shirt?
Basically, a white shirt suits almost all kinds of pants. While you want to make it simple with black pants along. The monochromatic combination of white shirt and black pant formal simply rule the formal fashion world. When you're thinking of going for a meeting or about to step forward for your first interview, you can trust this white shirt-pant combination. Its simplicity wins hearts, which is the reason why people love to wear it.
How To Choose The Perfect White Shirt?
The white shirt is a wardrobe staple that you can never go wrong with, whether you're wearing it for formal occasions or informal outings. However, there are several considerations you should make when looking for the ideal white shirt.
Recognize The Fabric:
The fabric of your shirt is the most important factor in achieving the ideal aesthetics. The best fabrics for any kind of white shirt are cotton and linen. They work well in both professional and informal settings. Choose satin or silk if you want to make it a little more ostentatious.
Superior To The Rest:
The cut and style follow next. Knowing your body type is crucial for males because there is less room for experimentation. Regular fits are better suited for people who are slightly bulky, while slim and structured fits are best for people with slender, toned body shapes. However, women can explore and have fun with big shirts, straight, pleated, narrow fits, and other styles.
Gently Collar It:
The collars that come with a white shirt can be of several types. Men can choose a wide-collared white shirt for everyday wear that is so adaptable that can be worn with or without a tie. For really formal occasions, narrower, thinner collars are appropriate.
The Texture And Pattern:
White shirts come in a variety of typical patterns, including herringbone, poplin, Pintex, twill, and wrinkle-free. Twill or poplin are good options if you want to go with something less translucent. For formal attire, Pintex or self-weave look stylish. Wrinkle-free clothing is more informal and typically made of linen. Whether you purchase one or all, you will have several opportunities to show off each pattern in various ways.
Button-Up:
Pay closer attention to your white shirt's buttons, a feature that is frequently overlooked, to give it the finishing touch. Consider using mother-of-pearl buttons or elegant cufflinks with a fine finish to lend a touch of majesty. Both men's and women's white shirts look good with conventional buttons. A formal occasion calls for cufflinks, while a casual one calls for two buttons.
Final Word:
The men's white work shirts are truly diverse and are a great investment for your wardrobe. Pair it with jeans for a more downplayed look, or with trousers for a more formal look. You can pair it with loafers or brogues to heighten a formal ensemble or with trainers or sandals to add to a casual outfit. There are truly countless ways you can wear a white shirt! One final word of advice is that, make sure your white shirt fits you perfectly. There's nothing worse than an ill-fitting shirt.