Top 3 online screen recorders for recording zoom meeting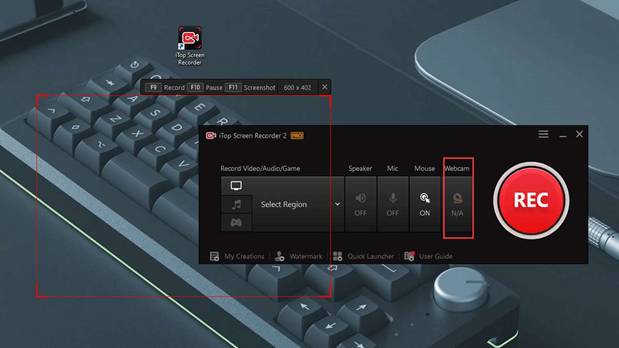 The free and commercial versions of Zoom, a well-liked video conferencing program, can record locally. The host may record a meeting's video and audio locally shared through Dropbox and Google Drive or stream directly to either YouTube or Vimeo, giving participants many options. This, however, may only be done if the meeting's organizer or host permits it. But if he turns off the "Record," you won't be able to complete the task.
Zoom recording software is what you need. Options exist for Windows and macOS PCs and mobile applications for Android and iOS devices. As such, this article lists 3 of the best Zoom screen recording programs available. Keep reading until you discover the one that works best for you.
Considering how important a question 'how to record screen on Windows 10' is! We decided to create a batch of posts guiding you on the topic from selecting the best online free recording tools and how to use them.
iTop Screen Recorder
If we're talking about top-tier professional online screen recorder, iTop Screen Recorder should be at the top. The recording program is lightweight yet powerful, and it can capture the whole screen or just a portion of it, making it ideal for capturing the Zoom conference window. Meanwhile, hardware acceleration technology has been included in iTop Screen Recorder, allowing users to record high-definition video on Zoom (4K Ultra HD up to 4096 2160 resolution) with minimal lag during conferences.
Pros:
The combination of hardware acceleration and minimal CPU consumption
There is zero lag while recording in HD.
The duration of recordings is not restricted in any way
MP4, AVI, MKV, MOV, FLV, TS, GIF, and many more are some of the video output types that may be generated.
You may capture audio and webcam footage with Zoom without their knowledge or consent in addition to capturing videos.
Immediately upload to Google Drive, YouTube, Facebook, Vimeo, and Instagram.
Cons:
Unique to Microsoft Windows
VideoSolo Screen Recorder
Simple controls of VideoSolo online screen recorder make it a great choice for recording Zoom meetings on a Mac or PC so that you may take notes throughout the meeting. A built-in drawing panel allows you to annotate, draw, and type in real-time while recording your screen, making for a more engaging and informative final product. You can record your computer screen, camera, and audio (from your Microphone or the computer itself) without worrying about watermarks.
Pros
High-definition video recording quality;
Start recording in a manner of your choosing;
There is a recording scheduled for later;
Live ink-and-pen/touch-screen annotation and highlighting;
There's a Webcam mode and a watermark creator you may tweak.
Cons
During your free trial, you may record for a total of 3 minutes.
Wondershare DemoCreator
A powerful online screen recorder to capture your Zoom meetings and anything else occurring on your computer screen. Whenever recording is finished, the recorder's built-in editor launches instantly for editing purposes. Captions and other annotation tools may improve the video quality, and the cursor's movement can be given special effects.
Pros
Allow simultaneous recording of system and microphone sounds;
Editing software for the creative mind;
The library contains over a thousand different video effect bundles that may be used.
Cons
The export of trial versions of the software will include a watermark on the recorded content.
Solving this "how to record Zoom meeting without losing quality" is a challenging task, but not one that will persist if you use a robust online screen recorder. I am certain that among the three top screen recorders shown here, you will discover one that meets your specific requirements. Since they are all either costless or come with a trial period, there's no reason not to give them a go right now.