Tips for cleaning and maintaining your fiberglass pool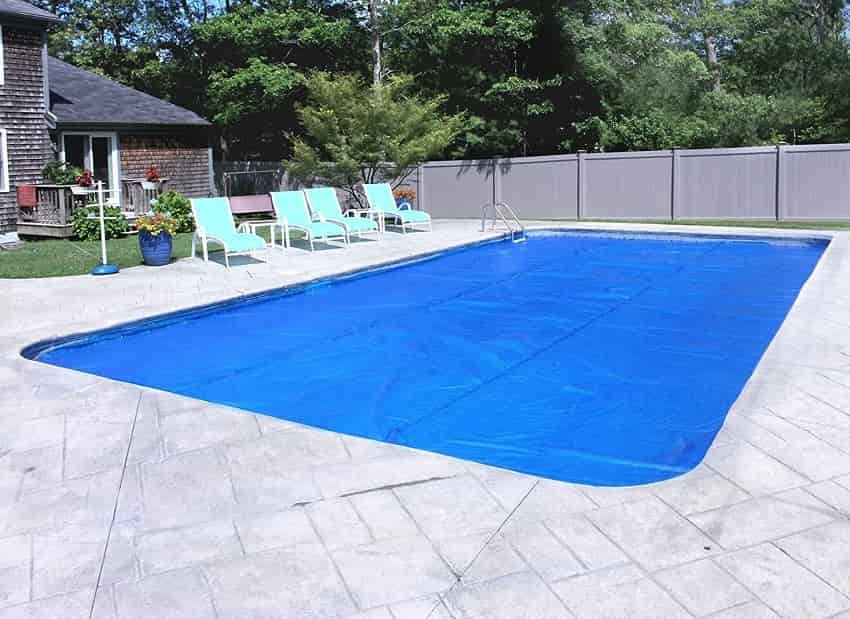 Like other big purchases in your life, such as a car or house, you need to maintain your fiberglass pool to ensure that it is in good shape and safe for your family to dive in.
Compared to vinyl & concrete pools, fiberglass pools are labeled as high-maintenance.
In this article, we have created a practical guide on how to clean and maintain your fiberglass pool, so let's scroll down and find out:-
#1 Pool Cover
A swimming pool cover is a smart investment if you wish to spend more time playing with your kids in the pool rather than vacuuming the pool. It keeps dust, dirt, and other contaminants away from your pool water while lowering the operational costs of the swimming pool's filtration system. Cutting down on the pool is maintained by simply covering the swimming pool.
The pool covers are broadly divided into three categories, the first being the solid pool covers. They don't allow anything to get into the pool water, even rainwater. It blocks the UV rays of the sun. However, regular pumping out of the water from such a type of cover is a hassle.
The second type is the mesh covers. As the name suggests they have a mesh-like structure. They allow water to pass through to the pool water. Mesh covers are lightweight and much easier to install. In comparison to the solid pool cover, the mesh covers are long-lasting. One worth mentioning drawback associated with a mesh cover is that it allows some UV rays to pass through leading to chlorine degradation.
You can add the pool reel system to both pool cover types; so that they open and retract with a push of a button — no elbow grease needed.
#2. Monitor the Chemical Levels
It is imperative to keep an eye on the swimming pool's chemical levels. Chemical imbalance contributes to increasing murkiness of the pool water and creating a favorable environment for the bacteria to breed.
As a result, you and your family could suffer from skin allergies and eye problems. Testing your pool water at least once a week must be in your routine for maintaining a fiberglass pool. During the off-season, you can test your pool water once a month.
Here are key pointers you need to know:-
Chlorine Levels: Ideally, it should be between 1 PPM and 2 PPM to keep your pool germ & bacteria-free.
Calcium Hardness: Calcium levels must be between 175 PPM and 225 PPM.
Acid and Alkaline Ph Levels: The Ph level must be neutral while containing a small amount of alkali. Ideally, the alkaline range is between100 ppm and 150 ppm.
Now, you probably wonder how to test your pool water? There are test kits having strips to test the water without the need to hire a professional.
#3. Annual Pool Inspection
Even though your fiberglass pool is appealing as good as new. It is advised to let a professional thoroughly inspect every nook and corner of the pool annually.
A trained individual has the right arsenal of advanced tools & equipment to inspect the pool in a way a layman can't. They will check the different mechanical parts, whether they are optimally operating, such as heating systems, pumps, filters, and more. For instance, the water pool pumps have rings that require regular lubrication.
If you recently come across strange things concerning your pool, let the pool expert know immediately.
#4. Clean Pool Parts
The most essential component that ensures your pool stays clean and hygienic throughout is the pool filters.
You can backwash to check if the pool filter is best, and run at its best. The filter will not let the leaves, dirt, and dust get into the pool.
However, some of these may get caught into the filter, therefore the filter needs to be cleaned routinely. If you overlook it, your pool filter's capacity will be hampered. Water won't pass through, as the filter is unable to trap more dust.
If you have a sand filter, then backwashing will keep your pool filter at optimum running condition.
Do this at least once a month, and depending upon how much dust the pool filter collects, some people tend to do it every fortnight.
For a cartridge filter, the filter has to be physically removed, and then cleaned thoroughly. You can rope in a pool technician if you are unsure how to do this.
Apart from the pool filter, clean the skimmer basket, which is located poolside. Check if the pumps are clean too. Pumps have a lint and hair pot that collects the hair.
In a nutshell, timely cleaning of the pool parts is necessary to receive the fruits of fiberglass fruit investment.
Final Piece of Advice
Not just the swimming pool, you have to invest time and effort to maintain the area surrounding the pool — which includes the decking and shade area — to create a welcoming and safe ambiance that everyone would love to dive in. You can upgrade the pool with a patio cover, it provides a much-needed respite from the scorching summer months. A patio cover will keep your exquisite furniture safe from sun damage. The patio covers are available in various fascinating designs and shapes. You can install one that blends with your house's exteriors.